By Cyrus A. Natividad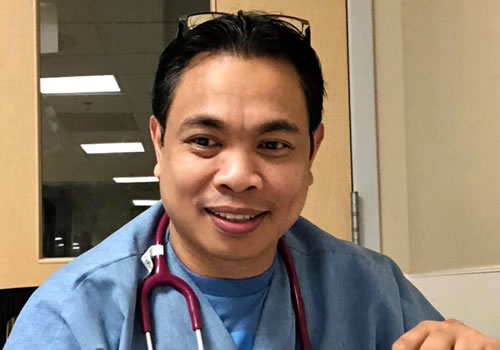 Jimmy Zamora Tormon is the 2021 Nurse of the Year from Weiss Memorial Hospital.
Jimmy Zamora Tormon, a Centralian nurse, received recognition as the 2021 Nurse of the Year from Weiss Memorial Hospital in Chicago, USA. He is recognized for displaying excellent service and performing a crucial role in saving lives amidst the greatest battle against the pandemic. Last 2015, he was also recognized for his outstanding and excellent performance of duties as a health care provider by the same hospital.
According to his brother Joel Tormon of Iloilo Capitol Press, "Jimmy rendered an admirable, dedicated service to Covid-infected patients. He witnessed how the patients suffered and others died, but he saved many lives."
After graduating with his Bachelor of Science in Nursing at CPU in 1993, he practiced his profession as a nurse in Singapore. He signed a contract of 3 years in Singapore. After that, he moved to Chicago, Illinois, and continued his nursing profession with a Nursing Home. Later on, he was given an opportunity to work with the University of Chicago Medical Center, one of the prestigious hospitals in Illinois.
Being imbued with the Centralian core values of discipline, commitment, and dedication to service, Jimmy performed his duties well wherever he worked. He moved to Weiss Memorial Hospital, an urban health facility located in the uptown neighborhood of Chicago, Illinois – serving the north side of Chicago and its surrounding communities. The nurses and staff of the hospital and the Filipino community of Chicago are proud because of their 'Kababayan' Jimmy Zamora Tormon, another Filipino, whose Centralian value of service for others is admirable.
Jimmy Zamora Tormon is the elder brother of Joy Tormon Asdall, an alumna of CPU College of Nursing, who is also passionately working as a nurse at the University of Chicago Medical Center.
Following their footsteps and inspired by their good examples are their nieces, Alexis Michaela Tormon Yoro, a staff nurse of Metro Iloilo Hospital and Medical Center (CPU BSN Cum Laude, 2017) and Aelred Maurice Tormon, an incoming 4th year BSN student also of CPU.