By Cyrus A. Natividad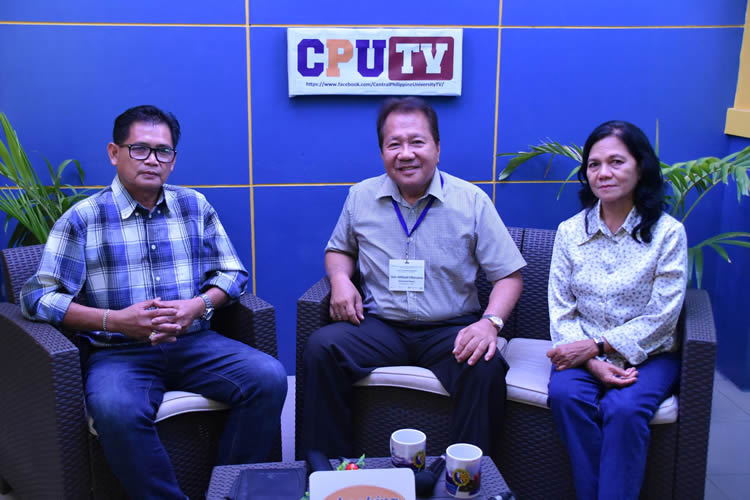 Concepcion Vice Mayor elect  and CPUAAI Concepcion Chapter Vice President Millard Villanueva (center) and CPUAAI Concepcion Chapter President Ninfa Zarriz Esteban (right) with host, Mr. Natividad in CPUTV's Looking Forward.

Fresh from his victory as Vice Mayor-elect in the last mid-term elections, Millard Villanueva, the current Mayor of the Municipality of Concepcion, Iloilo, recalled his student days in CPU at CPU TV's weekly public affairs program, Looking Forward. He remembered, among other things, how CPU prepared him to become the Centralian who would be Mayor and public servant of Concepcion. The Mayor especially recalled the Christ Emphasis Week: "The Christian fellowship has influenced my life in a manner that it [has] encouraged me to rely on God, practice integrity, and inculcate service in my career."
Villanueva finished his high school in 1970 and earned his BS Electrical Engineering degree in 1975, both at CPU.
After working in the corporate world for a while, Villanueva ran for office as a municipal councilor of Concepcion. Due to his exemplary performance and contribution to the development and progress of the municipality, the people of Concepcion voted him as Mayor after six years as councilor. For three consecutive terms, Mayor Villanueva was able to increase the municipal revenue, implement infrastructure projects and create livelihood for his constituents. He implemented valuable projects for a sustainable industry, such as fishing, in the coastal town of Concepcion.
Villanueva is currently the Vice President of the CPUAAI Concepcion Chapter. He was a guest in Looking Forward  last Wednesday, May 22, 2019, along with Ninfa Zarriz Esteban, President of the CPUAAI Concepcion Chapter, With Esteban and Villanueva leading a newly inducted alumni chapter, Centralians can look forward to an active civic-oriented alumni chapter.