By Cyrus A. Natividad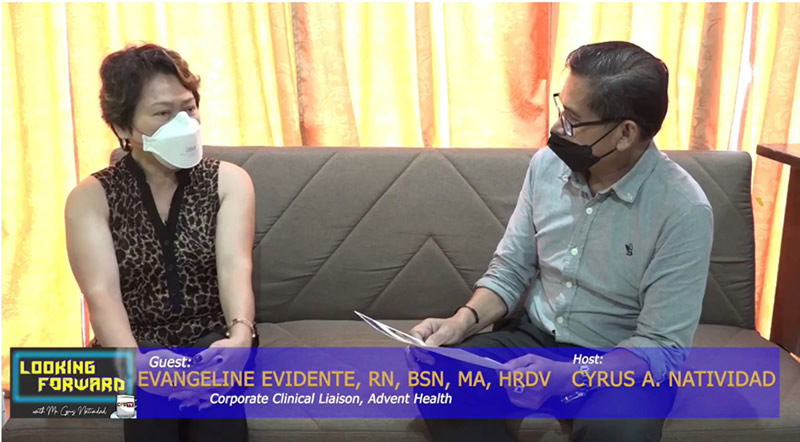 AdventHealth Evangeline Evidente in an interview with Looking Forward host Cyrus A. Natividad.
A visiting Centralian executive guested at the launching of Looking Forward Public Affairs Program (3rd episode) on CPU TV Facebook Channel on December 7, Wednesday. Evangeline 'Vangie' Evidente was on her way back to the U.S. with her Ilonggo husband Joebalt, but dropped by the Office of Communications at the 2nd floor of the CPU information Center. The surprise visitors from Florida, USA brought good news to Centralian graduates of the College of Nursing. Vangie updated viewers with trends in Nurses' direct hiring for Filipinos; convenient facilitation of application, accommodation and many other competitive benefits. She's actually one of the executive shareholders; Corporate Clinical Liaison of the prestigious AdventHealth which is known the world over. They operate in nine states in the U.S.
"Our best offer for Filipino nurses is the Transcultural Assimilation Program (TAP), a structured education program that targets international nurses who do not have U.S. experience. TAP enables the international registered nurse to successfully transition and assimilate to the United States health care system," Evidente explained.
She added that, "Our program includes: Structured classroom and clinical orientation; three – year contract with $2,000 stipend. Accommodations, if needed are provided during the TAP; Free transportation to all designated TAP activities; discounted cell phone plans, and assistance with banking and special rates for AdventHealth employees."
To qualify, the applicant must have a minimum of two years recent experience in an acute hospital setting (at least 100 or more beds); a holder of a U.S. nursing license; must provide a current/updated resume; must demonstrate competency in the English language and verbal communication skills; must meet all United States Citizenship and Immigration Services requirements.
Evidente is always proud of the Filipinos, particularly the Centralian nurses. "They are easily liked by their employers," she said. On the other hand she declared that her mission is to help the nurses, make it easy for them, and for them to stay safe.
Evidente is a graduate of CPU Elementary School in 1972 and High School in 1976. She finished her Nursing in 1980 at WVSU.