By Cyrus A. Natividad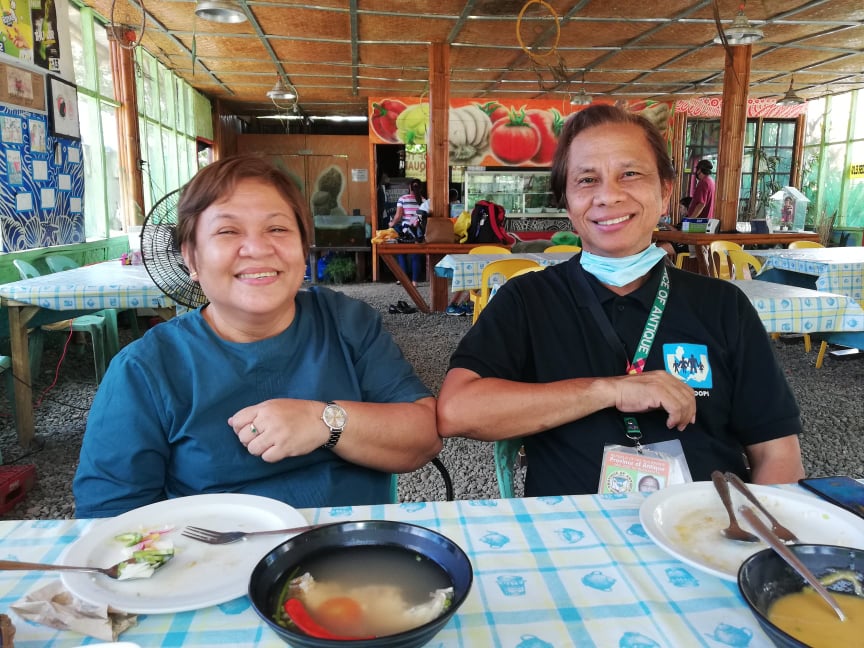 The Petinglay couple continues to serve God by serving the people.
"The best way to find yourself is to lose yourself in the service of others". – Mahatma Gandhi
When Larry and Annabel Petinglay decided to reside for good in Antique, they committed more to public service — helping people, more so during this pandemic time. The Centralian couple has been working in the government for many years.
Lazaro "Larry" Petinglay is currently the Provincial Social Welfare and Development Officer of the Department of Social Welfare and Development (DSWD) of Antique. His wife Annabel held the position of Bureau Chief of the Philippine News Agency (PNA) based in Iloilo City before transferring to her home province. Now a PNA news reporter assigned in Antique, she was elected as President of the Antique Capitol Press Corps.
Larry highlighted his position with the efficiency of action on contingencies and support for people in times of crisis. He delivered programs and services for Social Welfare and Development of Antique.
Here are some of his achievements at DSWD Antique: he provided technical assistance and delivery of social welfare services in Caluya Island, Antique on May 24-27, 2021. He sent aid to individuals in crisis, senior citizens, front liners, women, children, and parents. He also extended technical and capacity-building assistance to child development workers.
In updating his department, he oriented DSWDO staff on the functionality of the organizational structure and orientation of the Mandanas-Garcia ruling (Supreme Court ruling allowing LGUs to receive percentage allotment from all national taxes) in time.
Larry has equipped the Person With Disabilities (PWD) Affairs Office with readiness for the reactivation of the devolved program of 'DSWD for PWD's' in Antique. He is coordinating with the Provincial Council and the Inter-agency Council in the Protection of Children and Violence Against Women and Children and Anti-trafficking of Persons.
Larry has an online program on Social Services for his constituents every Friday morning. "We call this DSWD Office Online Updates – part of our information dissemination education program", he said. He actively implemented Executive Order No. 70 of the present administration, a 'whole of the nation approach' to end local communists and establish lasting peace, with poverty reduction initiatives.
In accepting that he is a 'servant leader', Larry started a radio program entitled 'Horabaton Sang Kabuhi' (a program to inspire the public about the word of God). Also, live on Facebook, Larry encourages subscribers of the program to be faithful to God and to pray always in these trying times of Covid-19.
On the part of Annabel, she is conducting a virtual presscon with Governor Rhodora J. Cadiao to update her constituents about Covid-19 initiatives and vaccination campaign. On Fridays, she is with Vice Governor Edgar Donosta (Head of the provincial Inter-agency Task Force), informing the public about legislation passed in support of Covid-19 initiatives of IATF. To disseminate information on programs, Presscons for national government offices in Antique are conducted by Anabel the rest of the week.
Under her term as President of Antique Capitol Press Corps, the local media are now united in working as partners for the good of Antique. "Last year we held a successful fellowship to unite the Antique media", Annabel said. According to DOH 6, the province is low in Covid-19 with local media at the forefront.
Larry and Annabel Petinglay are Centralians. Larry is a graduate of Bachelor of Science in Social Work (1989) and a Master of Science in Social Work (2017), both from Central Philippine University. He is currently completing his academic units in Doctor of Management in Public Management. Annabel graduated from CPU with the degree of Bachelor of Arts major in English in 1990. She is now writing her dissertation for her Doctorate degree in Philosophy major in Educational Management.
Larry and Annabel are enjoying life with their son Lazaro, Jr. in Sibalom, Antique.