By Dan Dorillo HS '66, BSA '70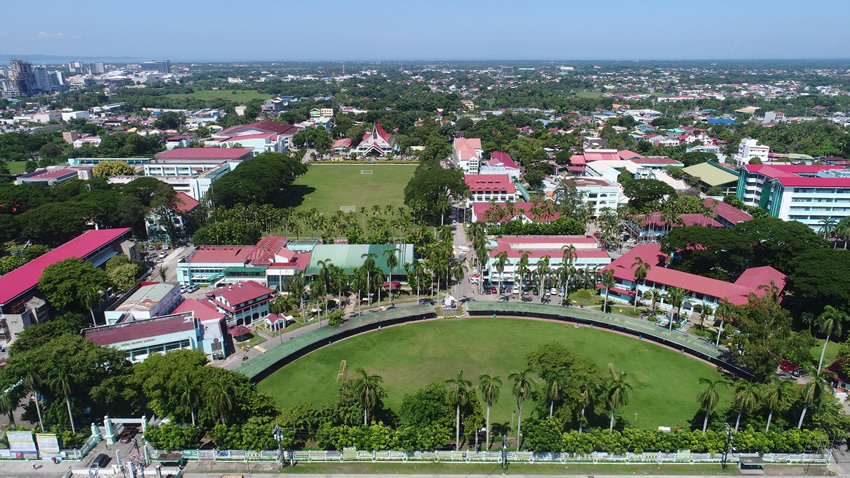 A drone shot of the CPU Campus.
Throwback…
The staff of the Treasury Department of one big national store chain took notice of a very significant upward change in their foreign exchange transactions a few days before the start of the CPU Centennial Celebrations. When the celebrations actually started, after most of the balikbayan-alumni have already arrived, they had to limit each forex transaction to only $300 per person because their vault was being emptied before closing time. Their sales manager would always be in high spirits the whole centennial week and, at mid-afternoons, would announce in jest, "Let's close for the day and all go home – quota na tayo!" It turned out that their sales volume for that particular week was equivalent to a week of their Christmas Sale! And to think that August is, business-wise, traditionally the leanest month of the year in Iloilo.
Taxi drivers had a field day throughout the whole centennial week – thanks to some generous Centralians. One Hotel del Rio guest, on his way to CPU, asked his driver how much was the daily rental for his taxi unit – and promptly handed him the amount, some P1,000, or 1,200. Another guest even paid $100 for a one way-trip and only asked for a P50 change! "Keep the change" became sweet music to each lucky driver's ears, instantly becoming the hit of the week. May the tribes of these kind-hearted alumni increase!
If you ask any of them, probably most of the alumni who came did not really mind the rains at all because, anyway, at the sign of a slight drizzle, most would hie away to the malls and their favorite eating places– especially the batcohyans. Remember that most of these establishments did not yet exist during their time in CPU. There spontaneous mini-reunions that went on simultaneously at Max's, Tatoy's, Ted's Batchoy, Jollibee, Breakthrough, Nes & Tat's and all the food outlets in the malls. A Nursing group even went as far as Mambucal in Negros Island. The CPU High School Class of 1966, on the other hand, had their two day pre-centennial "Christmas in July" affair at the Katamnan Resort in Dumangas complete with a Santa Claus, twinkling lights, Christmas trees and exchanging of gifts. The 66ers just went nuts prancing about with antlers on their heads singing Christmas carols…in July!
All the hotels in the city were booked solid for more than a week and played host to daily alumni gatherings. In two separate occasions, Amigo Terraces Hotel and Hotel del Rio really packed them in like sardines that one could hardly move about. One could imagine how these establishments made the whole week.
Also during the same week, a car dealer was reported to have sold more than 40 brand new cars! Coincidence? Maybe, but the manager is probably praying for more coincidences!
The good mayor of Iloilo City, though was more direct. In his speech before the alumni he said, "I wish that you will celebrate your centennial every year so that you will again spend your dollars in the city." (A reliable source estimated that about $2 Million was pumped into the local economy during the duration of the centennial). Not to be outdone, the honorable Governor of Iloilo Province made his own impassioned plea; "Please don't spend all of your dollars in Iloilo City – spend some of it in the province as well!" So, there.
After all that has been said and done, and after days of raining cats & dogs, of hoarse voices and sore throats, viral attacks, tired limbs, and sleepless nights, we can pause and reflect on the central message of the celebrations delivered by the Centralian of the Century, Dr. Alfonso Uy. In his speech during the culminating affair, he said, "I did not regret studying at CPU because it is here where I met Christ." That, I believe was the essence of the whole; all others mattered little. To God be the Glory!
And so, in a puff, the CPU Centennial came and quietly went… like a haze of a dream waiting (and wanting) to be re-lived all over again.
See you next Centennial– same time same place!
This article was published during the July- September 2005 issue of the Centralian Link.