By Nestle G. Taala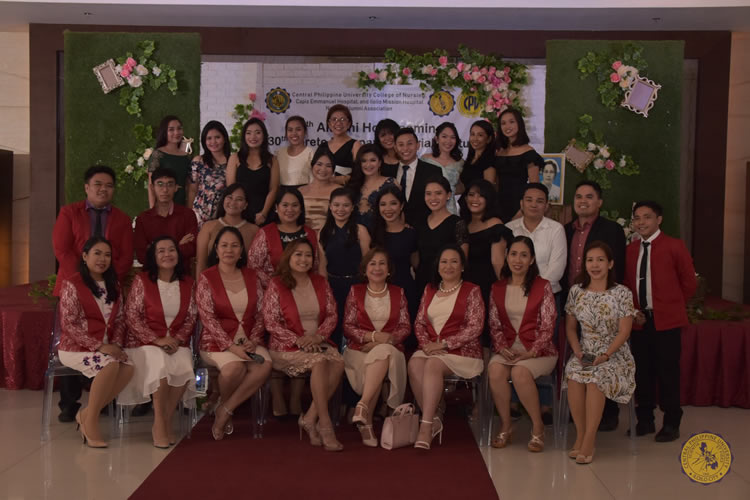 Celebrating the tradition of faith and excellence – the CCINAA alumni homecoming is a time of sharing testimonies and celebrating the goodness of the Lord to CPU nurses.
The CPU College of Nursing, Capiz Emmanuel Hospital, Iloilo Mission Hospital Nurses' Alumni Association (CCINAA) celebrates their 94th Alumni Homecoming and 30th Loreto D. Tupaz Memorial Lecture at Diversion 21 Hotel, Iloilo City on May 8 with the theme, "Synergizing Human and Technological Competency in Nursing Care: THE CCINAA WAY."
CCINAA President Cynthia J. Mendoza formally set off the program through her opening message. She gave a brief explanation about this year's CCINAA theme: "We [are] nurses of different generations, beliefs, [and] backgrounds. Hence, our acceptance of the application of technological advancement in nursing care varies. It is undeniable, however, that we encounter and use technology in nearly every aspect of our profession."
The program was also graced with the presence of Dr. Teodoro C. Robles, CPU President; Atty. Salex A. Alibogha, CPU College of Nursing Dean; and Engr. Isagani J. Jalbuena, CPUAAI President. They all warmly welcome and congratulated the BSN batches for conducting such event. Meanwhile, the director of IMH, Dr. Elemer Q. Pedregosa, sent his earnest greetings through a letter since he was unable to come to the event.
BSN batch 1974 representative, Elsie S. Italia, then rendered a tribute to the late Loreto D. Tupaz through a binalaybay which recalled Ms. Tupaz's humble beginning as a nursing student and how her influence was passed on from generation to generation. At the end of the tribute, Italia encouraged the nursing fresh graduates to aspire for greater heights as what Ms. Tupaz would do.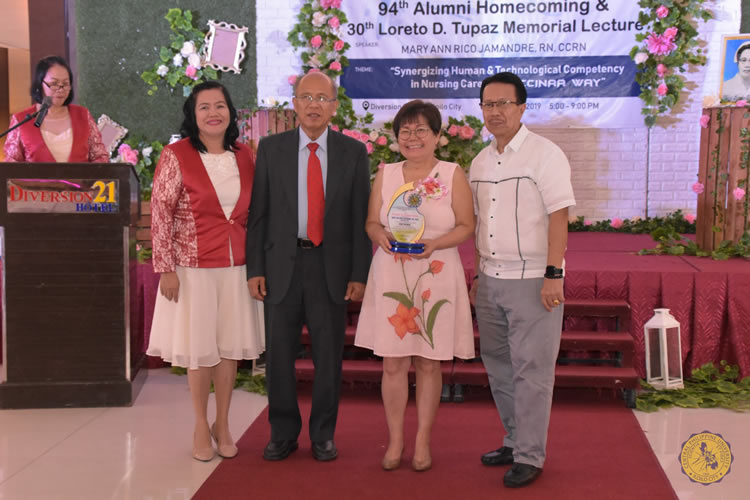 Mary Ann Rico Jamandre, BSN Batch 1971 receives a plaque of appreciation as speaker during the 30th Loreto D. Tupaz Memorial Lecture from CPU President Dr. Teodoro C. Robles and CPUAAI President, Engr. Isagani J. Jalbuena.
The memorial lecture was given by Mary Ann Rico Jamandre, BSN Batch 1971. She worked as a nurse in the United States, particularly in California. In the course of her lecture, Jamandre talked about the advantages of technology in nursing. "Every nurse today is expected to use their knowledge to maximize their nursing care and [to] improve [their efficiency] of working in the health care system. Emerging technologies are being integrated in our practice for reasons such as reducing medication errors, improving safety and efficiency, freeing workers from tasks, providing evidence for care plan decisions, making health care information accessible to patients, monitoring workforce, empowering patients to be involved in care and coordinating care across settings."
After the Jamandre's lecture, the CCINAA elected new board members. Engr. Jalbuena then inducted the seven new members of the CCINAA Board of Directors as well as the newest alumni members, the BSN Batch 2019.
The said alumni night and memorial lecture concluded with a class song, bestowed by BSN Batch 2019, and a message from Mrs. Annalie D. Gilongos, Batch 1995.