By Cyrus A. Natividad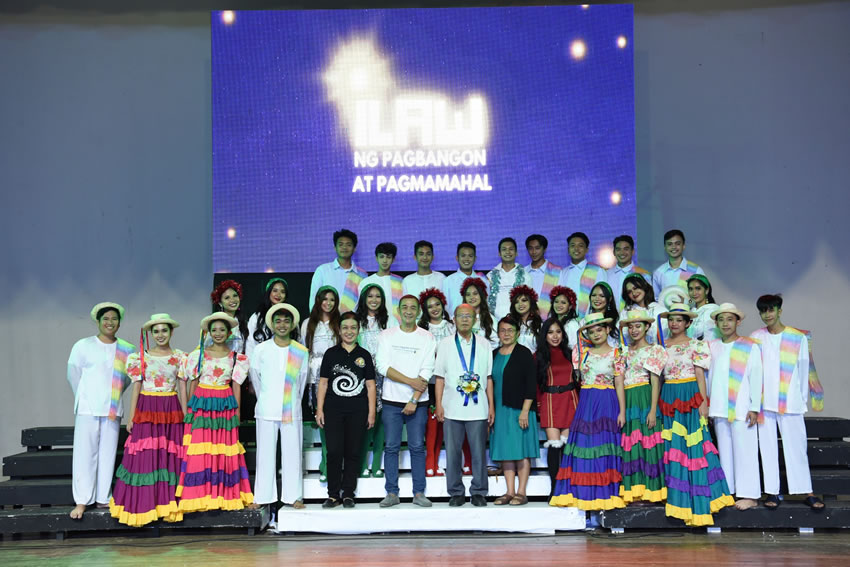 Dr. Robles and Maám Angel with the CAO talent performers at the Rose Memorial Hall.
The yearend 2022 was highlighted by a showcase of talents under the Cultural Affairs Office through the management and leadership of CAO Director Crista S. Huyong. The annual cultural show of CAO was made a part of the celebration of the Festival of Lights at Central.
"So on December 20, 2022, an all-out participation of the CAO cultural groups: Dance Company, Teatro, Sining Atbp., Excel Chorale, Handbell Ringers, and CENVAS – made a surprise number to the spectators at the Rose Memorial Auditorium; it particularly made the University President Dr. Ted Robles and his wife Maám Angel emotionally happy," Huyong said.
She added that the rationale behind the theme "Ilaw ng Pagbangon at Pagmamahal" is that we are recovering from the pandemic – it means getting up (Pagbangon). The Pagmamahal is the tribute that we have prepared for our outgoing President Dr. Robles, considering that the CAO is under his Office. It's a sort of surprise "thank you" show for him, and which has apparently surprised him."
The Symphonic Band also rendered musical numbers. A special portrait of Sir and Mam Angel made by CENVAS was presented. Dr. Robles' life story was echoed through skits and various songs. There was also a "thank you song" entitled "Sometimes" by the Carpenters, and was performed by personnel of the different departments under the President's Office.
The show was blended, with both live and recorded performances held at RMA. The University President expressed gratitude and thanked all the participants of the show. He greeted everyone a Merry Christmas and a Happy New Year.