By Ms. Gretchell Anne E. Ponsaran, Faculty, Life Sciences Department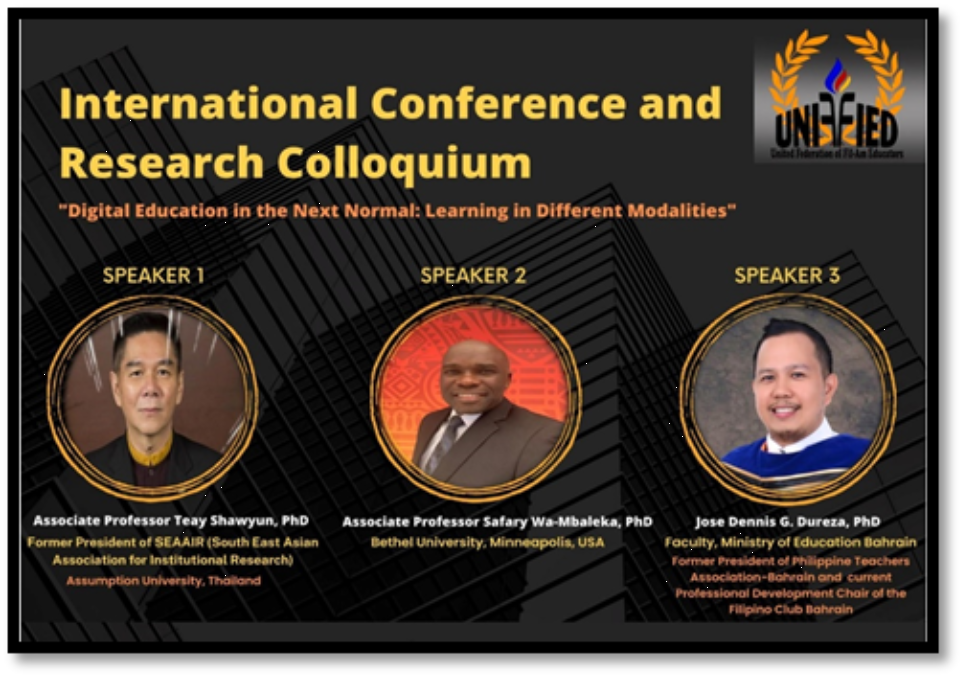 The Unified Federation of Filipino-American Educators, Philippines held its 1st series of Virtual International Conference and Research Colloquium with the Theme: "Digital Education in Pandemic: Learning in Different Modalities" last July 29, 2022. The Unified, Philippines have discussed the topics related to the new normal that we are experiencing for the past 2 years. The topics are focused on the different modes of learning.
The conference started with the warm welcome of the UNIFIED, Phils. President Mr. Edgardo B. Dacpano, USA.
The invited speakers are from the different parts of the world who have shared their experiences and expertise on their fields. The valuable speakers were Dr. Safary Wa-Mbalika from USA with the topic on "Online Education: Capitalizing on Lessons from COVID-19", Dr. Jose Dennis G. Dureza from Kingdom of Bahrain with the topic on "Effective Use of Learning Modalities: Relating to Students Learning Styles and Resources", and the third plenary speaker was Dr. Teay Shawyun Former President SEAAIR, Thailand, with the topic on "Strategic Organization Readiness Model".
Four students from Central Philippine University presented their papers: Parasites in Aquatic Organisms at Sinuhutan Cave, Barangay Onop, Miag-ao, Iloilo by Prince Edmar Nismal ( BSBio 4) ;Development of a Culture-Based Module in Teaching Reproduction for Grade 7 Science by Heber Paul Dalen ( BSEd- Science 4); Development of Learning Modules in Chemistry for Junior High School Students by Wenn I. Ricaforte (BSEd- Science 4):and Isolation, Characterization and Identification of Indigenous Soil Microorganisms in situ of Organic Farm at Dreamer's Valley, Tigbauan, Iloilo, Philippines by Pamela Sue Hilada ( BSBio-4).
Some faculty of Central Philippine University headed by Dr. Stella G. Fernandez, Dean of College of Arts and Sciences with Prof. Jayvee Jore, Prof. Sarex Dipol, Jr., Prof. Debbie Marsha Sian, Prof. Maricel Falguisana, and Prof. Gretchelle Anne Ponaran faculty members from Life Sciences Department were able to participate in the conference.
UNIFFIED is an organization of educators who share the vision of dedicating their skills in promoting excellence in teaching and providing community service through projects that will benefit their community. UNIFFIED is a duly registered 501(c) (3) and a SEC registered non-profit organization in the United States and in the Philippines.
The organization will conduct their 2nd Series of Virtual International Conference to allow Educators share their studies. Dr. Rex Casiple – CHED 6 ended the conference with his message emphasizing the importance of research presentation in different colloquia and publication of researches in refereed and international journals.