(A series of the Third Fundraising Campaign for Virtual Lab Phase II  Lucina Fidelis Marie by the Central Philippine University, Capiz Emmanuel Hospital, and Iloilo Mission Hospital Nurses Alumni  (CCINAA) and the CPU College of Nursing)
By Rusieljs G. Lunasco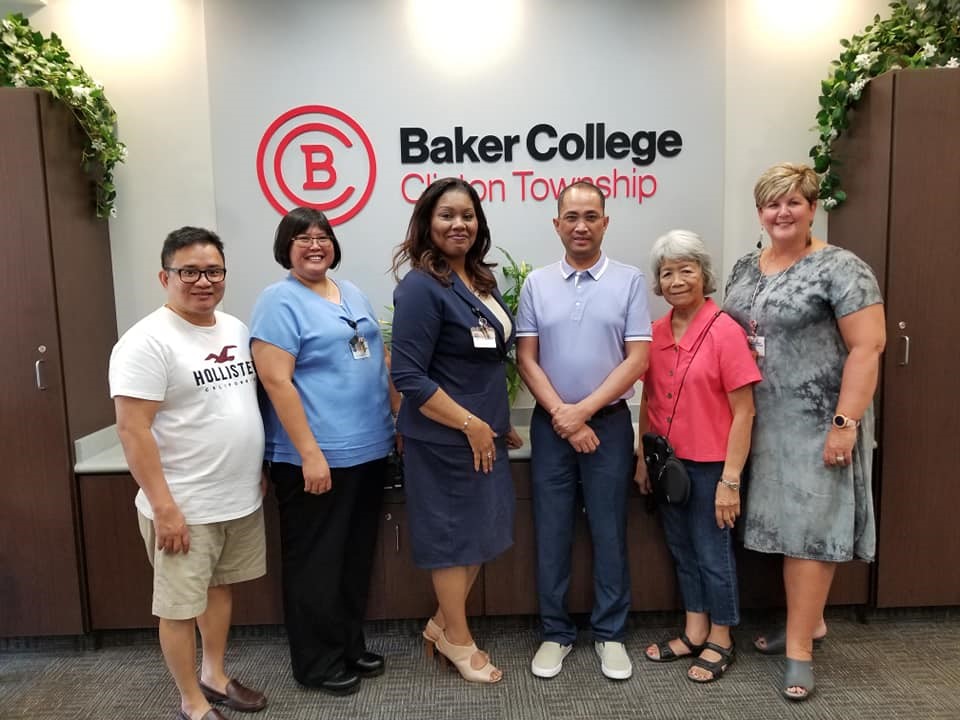 Mr. Geoffrey Leysa (first from left), Prof. Geraldine Flores (second from left), Atty. Salex Alibogha (third from right ) and Mrs. Esther Arora (second from right) with other faculty members from Baker College.
Through the efforts of Mrs. Ann Catedrilla- Seisa, BSN Class 1977, the launching of Virtual Lab Phase II was realized on February 11, 2019. After that, the College of Nursing Dean Atty. Salex Alibogha and his team went to the United States specifically in Florida, Nevada, California, Illinois, and Washington on February 27- March 11, 2019 for the first leg of the campaign. They were then in Doha, Qatar from May 1-6, 2019 for the second part of the fundraising drive. The series will focus on the third part of the fundraising campaign which was on July 28 to August 23, 2019.
The team who went to North America was composed of Atty. Salex Alibogha, BSN Class 1992, with Mr. Geoffrey Leysa, BSN Class 1991 and Mrs. Easter Contado-Arora, BSN Class 1962 went to North America more particularly in Nevada, Toronto, Montreal, Washington, Maryland, New Jersey, New York, Minnesota, Texas and California for the third part of the fundraising drive.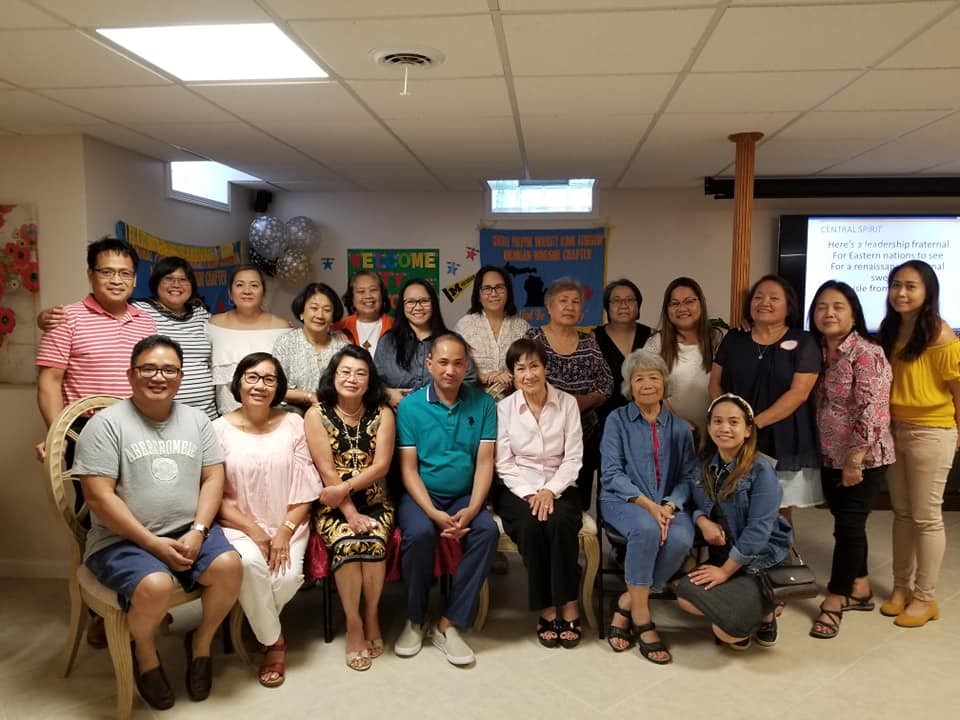 With members of the CPU Alumni Association Michigan-Windsor Chapter.
July 28-31 Las Vegas, Nevada
The BSN Class 1978 under the leadership of Ms. Edna Pelopero, Ms. Llanie Basco, Mrs. Leilani Epilepsia- Redosendo, Mrs. Sharyn Fernandez, and Mrs. Liza Hernando- Perez hosted the fundraising. Atty. Alibogha, Mr. Leysa, and Mrs. Arora were also hosted by Mr. and Ms. Wilson and Amy Combatir of BSN Class 2001 and 2003 respectively. They were able to raise a generous amount of money in Las Vegas, Nevada.
August 1- August 4 Toronto, Ontario, Canada
Rev. William Amy and Mrs. Meriam Garrido-Amy, BSN Class 1981 hosted the fundraising at Stoufville Baptist Church. Because of the fundraising event and fellowship, a new CCINAA Chapter was created in Toronto, Canada.
 August 5. Windsor, Canada; August 6 Detroit, Michigan
 Mrs. Nancy Guevarra- Dorado, BSN Class 1978 hosted the fundraising activity and fellowship. In a series of presentations, the alumni were encouraged to attend the Nursing Grand Alumni Homecoming and the Grand Alumni Homecoming in 2020. The following day the team visited Baker's College, Detroit, Michigan wherein Mrs. Geraldine Flores, BSN 1993 is a professor. Prof. Flores initiated the benchmarking of a possible partnership of CPU and the said college for simulation. The afternoon of the 6th the team traveled to Washington DC.