by Prof. Sarex Dalida Dipol, Jr.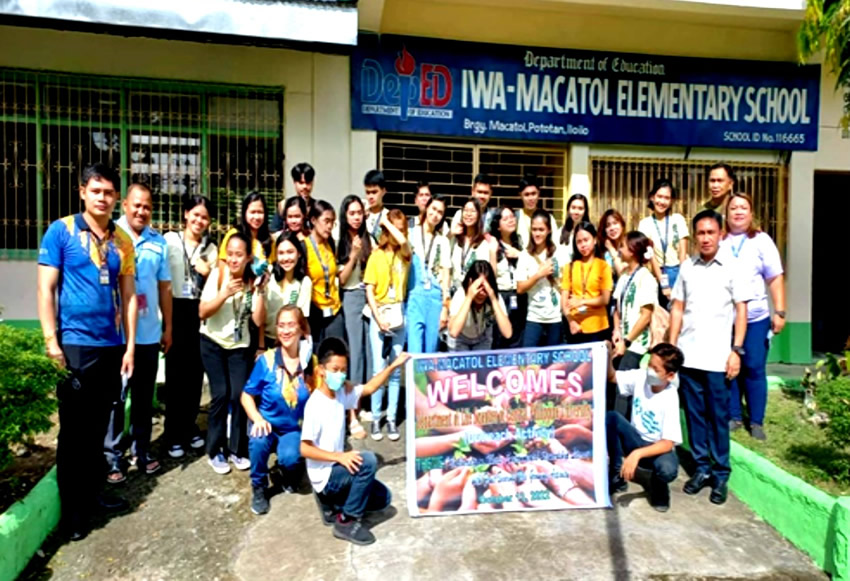 Selected CPU BS Bio Students conduct Tree Planting and Learning activities with Elementary pupils of Iwa-Macatol Elementary School.
The Department of Life Sciences of Central Philippine University conducted Environmental Stewardship Literacy and Fruit-bearing Tree Growing Activity in Iwa-Macatol Elementary School located at Brgy. Macatol, Pototan, Iloilo last October 13, 2022 (Thursday). This outreach activity is based on Republic Act 7722, otherwise known as "Higher Education Act of 1994". It is stated in this law that Extension is one of the mandated functions of tertiary institutions aside from Instruction and Research. The higher education institution is mandated to transfer the knowledge, research, skills and technology for the achievement of development goals of the country.
This environmental stewardship literacy intends to increase the awareness of elementary students, specifically grade 4, 5 and 6 students to various environmental dilemmas such as biodiversity loss, environmental degradation, climate change and possible solutions to address them. Moreover, the activity fosters the components of environmental literacy, such as knowledge, behavior, attitude and sensitivity of the participants. The facilitators of this activity are selected BS Biology students of Central Philippine University. The facilitators discussed the structures of the ecosystem, environmental hazards, endangered flora and fauna in Panay Island and among others. This upholds also the CPU HARIBON Foundation program.
Aside from environmental stewardship literacy, the participants planted one hundred ten (110) seedlings of various fruit-bearing trees in school premises donated by the Department of Agriculture Region VI. This activity is a starting point to make Iwa-Macatol Elementary School as one of the adopted schools of the University. This activity is headed by Dr. Nicolas G. Guanzon, Head of Department of Life Sciences, Dr. Stella G. Fernandez, Dean of the College of Arts and Sciences and Mr. Larry P. Pasquin, School Principal of Iwa-Macatol Elementary School.