By Cyrus A. Natividad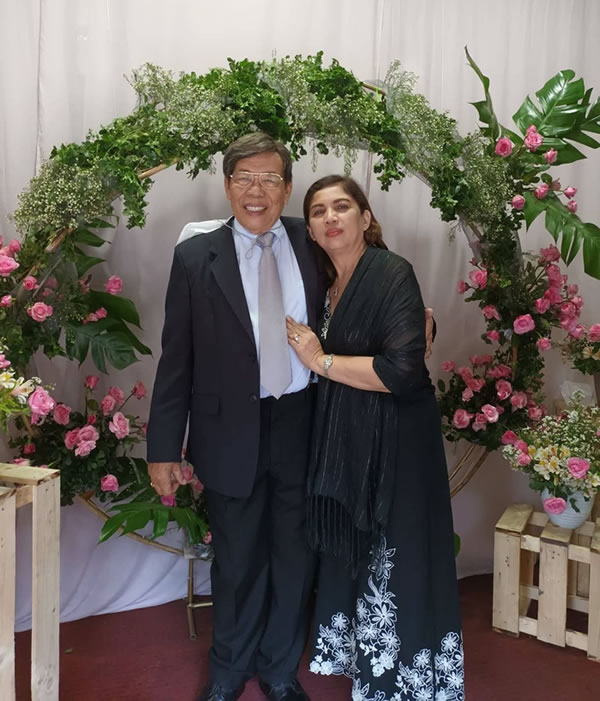 Atty. Sam Dorillo with his wife Angelina.
In 1953 during a graduation ceremony, the name Central Philippine College (CPC) was changed to Central Philippine University (CPU). This was recalled by a CPU alumnus who attended the Homecoming last Saturday. Atty. Samuel 'Sam' Dorillo, who is the brother of former CPUAAI President Dan Dorillo, was among those who attended. He was a graduate of the Elementary Batch 1953; High school Batch 1957, Associate on Arts – Pre-Law Batch 1959 and Law in 1964. Dorillo passed the Bar Exam in 1965. On the same year, he married the former Mila Decolongon. They had 3 children before Mila passed away in 2007. He is now happily married to the former Angelina Gillego of Sorsogon.
He taught for two years in the CPU College of Law before his employment with the government as Information Officer of the Presidential Assistance for Community Development (PACD). He also worked with PICOP as Resident Attorney; Administration Division Manager at Agusan Wood Industries; Plant Employee Relations Manager at Union Carbide Philippines, Inc. , and General Manager of PepsiCo,Inc.; Area Employee Relations Manager, AVP Administration at Purefoods Corporation; AVP, Employee Relations at Cocochem and Steel Corporation of the Philippines; and AVP Administration at Honda Cars Philippines, Inc. He is a partner in the Jaso Dorillo Law Office.
For all his executive – business engagements, Sam Dorillo served as Church Administrator of the Manila Baptist Church, and now the Chairman of the MBC Board of Deacons.
During his College days, Dorillo was a CPUR Representative and later CPUR Chief Justice. He said "I am very grateful with the educational achievement I got from CPU." Asked what he enjoyed at Central, he answered that "There is academic freedom, Christian values and discipline, with excellent educational system." He added that "For me, the Central Spirit is one of harmony and hegemony by the Holy Spirit which makes us happy and proud."
"Being here to attend the Alumni Homecoming should be cherished by all Centralians", Dorillo proudly said.