By Francis Neil G. Jalando-on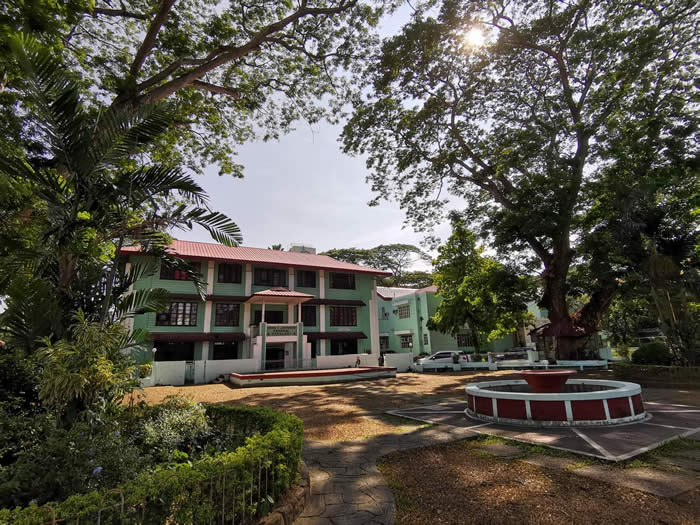 The legacy and testimony of Anna V. Johnson continues to echo in the lives of CPU students and alumni.
All Centralians after World War II have had their share of stories about Johnson Hall, the home of the BMTS, the Religion and Ethics classes (which was previously called Bible 101), and also, the College of Theology. Johnson Hall was constructed in 1939 and reconstructed after the war in 1950 in honor of Anna V. Johnson, a visionary missionary who helped in the theological education of women pastors. Most graduates call Johnson Hall as "House Beautiful."
In 1904, Missionary Anna V. Johnson began teaching Bible to women in her own living room. On October 20, 1905, Missionary Johnson started the Baptist Missionary Training School (BMTS) for women. The school was housed in the spacious residence of Missionary Briggs. From 1908 to 1914, 229 women were trained as "Bible Women" in that school.
The Bible Women played a key role in evangelizing people and organizing churches in the rural areas of Western Visayas. Feldman reported that "the Missionary Training School is the place where the Bible Women and Kindergarteners are trained and prepared for their share of work in the Islands. In addition to the classroom work, they are given the practical experience, which takes the shape of Kindergartens and Sunday Schools in the nearby barrios. Sunday Schools are conducted in this way in eleven different places, and there are seven Kindergartens within the radius of one-half mile from the Missionary Training School."
The women spent six months in the school and six months in the field with different missionaries. While in the field, Missionary Forshee reported that the women "sold more books with less loss than any men whom I have ever had working for me, which I believe is a good testimonial to their training. In evangelistic service they also made a good showing."  Missionary Munger testified that "these nut-brown maidens in their cheap patadyongs, their colorful kerchiefs confining their jet-black hair, carried their tracts and Bibles carefully wrapped in white cotton handkerchiefs… trudging along the country lanes in rain or shine on their errands of Light, bearing their torches… they were earnest, faithful workers who brought light to many a darkened mind and life to numberless sin-sick souls."
On June 7, 1930,  Miss Anna Johnson, who served for 25 years as a missionary particularly in teaching "Bible Women," died at Iloilo Mission Hospital and was subsequently buried at the American Cemetery in Jaro.  Because of this, the BMTS was transferred to Burgos St., La Paz. Later, in 1936, the BMTS was moved again to the Baptist Student Center Dormitory in La Paz. After a few years, in October of 1938, the BMTS was merged with Central Philippine College (CPC) as the Women's Division of the College of Theology.
Gregoria Jaime was the first "Bible Woman" who taught at the BMTS. Jaime was also the first woman to be baptized by immersion in the Jaro River in February 1901 after she was examined on December 9, 1900, one among the first 30 candidates for baptism in Iloilo. In 1915, it was reported that Gregoria was still active in the ministry.
Another teacher of BMTS was Simprosa Sobremisana. Her death in 1910 was described as "a serious loss" for she was "a valued helper in the school and one of the earliest converts in the mission."  Simprosa was remembered as a courageous "Bible Woman" who preached in front of a band of outlaws who were accused of burning a village and killing several people. These outlaws repented and corrected their wicked ways.
The "Bible Women" became involved in the mission work in many ways. They were both teachers and evangelists. Their work included Christian education, house to house visitation, and personal evangelism. They opened Sunday Schools in rural areas and diligently taught children about Jesus. They also preached in public places amidst prejudice. They even risked their lives evangelizing in areas where the American missionaries could not go because of the war. Some of them established local churches. They also taught women simple home industry and how to read the Bible in their own language.
Munger bore witness to their earnest, faithful, conscientious work. They often put to shame male preachers by their activities and zeal and the results of their mission. Such was the case of Listina Alabi. In 1917, Alabi organized a church in Libakaw, Capiz. At first she started a kindergarten school which won her friends. By the time Missionary Anna V. Johnson visited her, two baptisms had taken place and a young woman from Libakaw decided to study at the Baptist Missionary Training School.
Women in the ministry should be considered as pastors not only because they were trained, earlier than men in a missionary training school starting in 1904, but also due to their contributions towards the growth of local Baptist churches.
After 80 years of Baptist mission in the Philippines, the "Bible Women" were finally ordained in the Baptist ministry. Bible Woman Angelina Buensuceso was given her proper recognition and proclaimed by the Bakyas Evangelical Church and Cosmopolitan Evangelical Church, Bacolod City as Reverend on March 22, 1980.
The ordination that happened in 1980 is a significant milestone that awakened the consciousness among CPBC member churches of the role of Filipina pastors in history and their right to be recognized as pastors and not simply as "Bible Women."
Today, we do not call women in the pastoral ministry as "Bible Women" but as pastors. We thank the Lord for women trailblazers such as Missionary Anna V. Johnson.