By Lindsay Marie Borres, BA ELS-4, OJT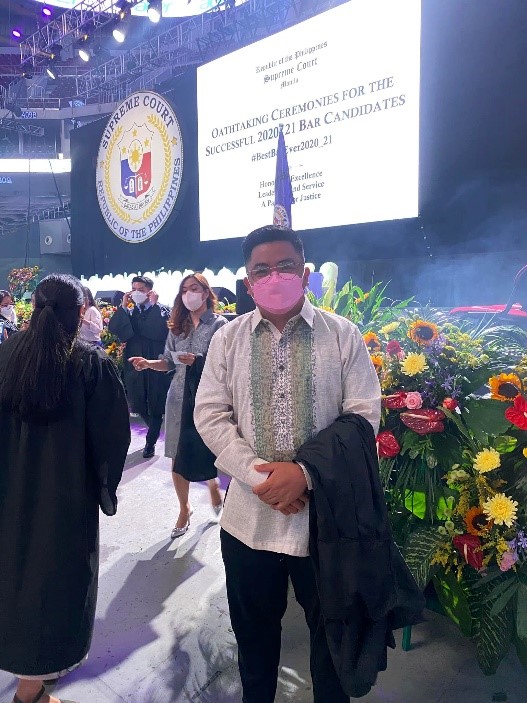 Centralian Atty. Belejerdo took his oath as a lawyer before the Supreme Court Justices at the Mall of Asia Arena last May 2, 2022.
People may probably never forget him as someone who ran three times in the CPU Republic Elections and never won, but now everyone can finally remember him as a CPA Lawyer with exemplary performance! He is Attorney Jikko Solano Belejerdo.
He passed the February 2022 BAR exam which was also dubbed as the Best BAR ever along with other 87 Centralians, and he was one of the four newly Centralian passers with a grade of 85 percent and above. A true Centralian, he finished his pre-law in CPU with a degree in BS Accountancy and immediately proceeded to the College of Law while working and leading.
Along with his batchmates, this 27-year-old native of Sambiray, Malay, Aklan waited for almost two years before he was able to take the BAR. They graduated in 2020 and endured numerous postponements patiently that only prolonged the anxiety. It was a phase of his life where he was most challenged. He admitted that he has set very high expectations for himself, something that made it so difficult for him to deal with as the review day progressed. However, God is extremely good that He surrounded this man with people he never knew he actually needed. A journey of learning and relearning. Learning new things to help him cope with the challenges brought by the pandemic and relearning things, things that he has already forgotten but became significant in his journey in overcoming every single day.
When asked about the things that he learned in his experiences, he highlighted that it was three things. First is learning how to wait. Second is, that God is in the waiting and of course, thirdly, trust the process. These major lessons led him to become the person that he is now.
This Koalisyon alumnus is remembered by his fellow leaders and mentees as someone who is passionate about helping others especially in producing excellent and emerging leaders in his Alma mater. He dedicated so much time serving the Centralians and inspiring young leaders in the University.
Attorney Belejerdo's message to the youth who aspires to be lawyers someday is "Always make your journey and your dreams meaningful. Seek and re-evaluate your purpose on why you want to become a lawyer; that sense of having a purpose will help you through. You also have to find inspiration from a lot of things. They need not be grand and learn the art of getting fueled by trivial yet meaningful things. Lastly, offer your endeavors to God. He should be the center of our dreams. And it is in His will that we flourish the most."
Perhaps the Almighty has denied him those titles in the past because He is preparing him for this one. Indeed, it was a journey of being patient and trusting that God is walking with him.