By Cyrus A. Natividad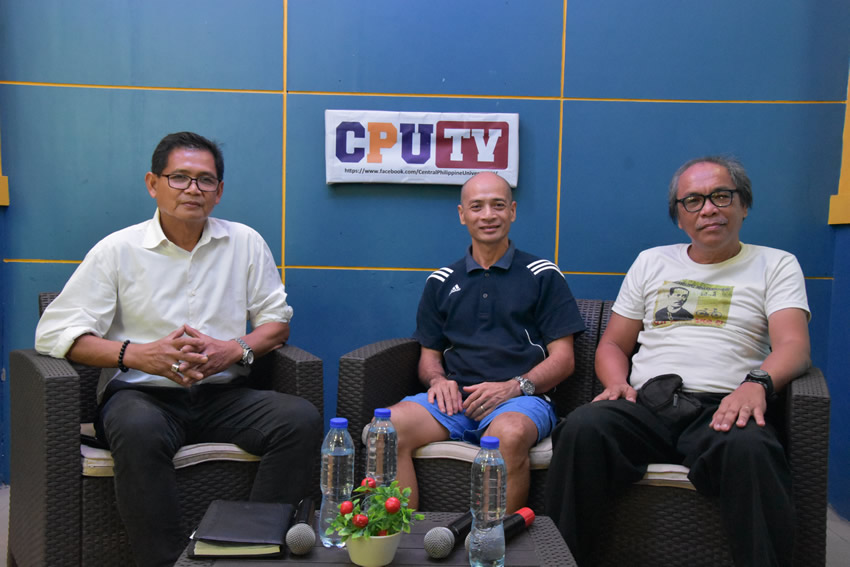 (left to right) Mr. Cyrus Natividad with Grand Alumni Homecoming 5K Fun Run organizers Mr. Hector Ledesma Jr. and Mr. Cicero Omero II during an episode of Looking Forward.
Mr. Hector B. Ledesma Jr. (CPU BSEE 1987), President of Iloilo Oval Runners Club and Mr. Cicero T. Omero II (CPU High School Class 1977), Iloilo Oval Runner's Club Member and a sought-after photographer, were guests in Looking Forward, CPU TV's public affairs program on Thursday, January 16.
The two athletes presented the 2020 CPU Grand Alumni Homecoming 5K Fun Run which will take off before the alumni event in February. The Fun Run, dubbed as "Run for a Cause" is scheduled on the 31st of January 2019.  It will start at 5:30 AM in front of the Loreto D. Tupaz Building.
The Registration for each Student with School ID is P175.00, Alumni and Friends (200.00). Both registration fees are inclusive of Event Shirt, Race Bib and Finisher Certificate.
The Fun Run project is in cooperation with Central Philippine University, CPU Alumni Association, Inc. and the Iloilo Oval Runners Club (the Event Organizer).
The CPU Grand Alumni Homecoming will be on February 5 to 9, 2020.