By Cyrus A Natividad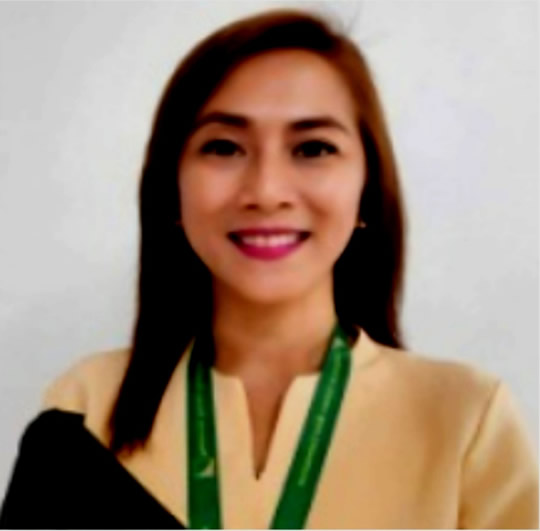 Ann L. Gregori: Producers Bank Branch Head.
"Being a working student is not a hindrance to reaching your peak of success." This meaningful quote was shared by Ann Lobaton Gregori, BS Commerce Major in Banking and Finance (CPU 2001).
Looking back, Ann said "As a work student during that time, I was looking forward to become a bank executive someday." She sang in events and celebrations for a fee; work on some projects and make an income to support her studies with her two younger brothers who were also going to school.
Ann recalled the difficult situation that had almost pushed her to give up her desire for success. "I did not lose hope though; I kept my head up high calling on God and 'praying without ceasing'. God is good, He must have sent me the kind-hearted Dr. Soña Gallon, CPU Medical In-Charge who helped me to secure admission to the work-study program of CPU."
"I thanked God very much and I was very grateful to Dr. Gallon for the opportunity to work and study and to realize my dream. I was first assigned to render janitorial duty in the medical clinic, and later became an assistant of Dr. Gallon. I was helping her with the day-to-day admissions and consultation of students and patients. I don't worry about tuition fees anymore. Just then I was able to support quite well my two brothers in school. I realized that my problems were just some prayers away. God is so good."
Ann has a weapon in her journey to success. She said, "there are 3F's that prevent us from insecurity and fears. First, we need to have Faith in God; second, we should have a Family that can comfort us – our parents, brothers or sisters; people who can understand our situation providing us love and care. And if we must succeed, we should have the 3rd 'F' – Focus."
She graduated from college at the age of 22, and began to work on her career. After her engagement in business with some companies, she was employed as a Branch Teller at the Iloilo City Development Bank (ICDB) in May 2011. A year after she was appointed as Branch Cashier of the same bank.
She joined Producers Savings Bank Corporation as Marketing Officer in 2014, and was promoted as Branch Head in 2015. Up to the present she holds the position and carries the values of perseverance, discipline and respect at work.
She has an interesting personality that helps her in dealing with clients; gives her a control of time that lets her succeed with customers in her bank transactions. She talks with positivity and professionalism when answering requests and processing sales. Gregori explains, "I continuously enhance and improve my skills to help achieve the goals of my company; exploiting my potential and sense of obligation for the benefit of the organization."
"Sometimes I visit my Alma Mater Central Philippine University, not only to see the beauty of nature inside the campus but feel the happiness as I recall my student days; that long journey to success. I thank the Lord for CPU, I thank Him for Dr. Gallon, my teachers and the privilege in the work-study program," she said.
She is happily married to Engr. Francis Armand. They have four children going to school. Ann is the daughter of Jesus Lobaton Sr. and Arlene Lobaton of Molo, Iloilo City.