By Francis Neil G. Jalando-on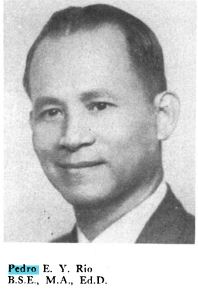 On August 28, 2022, the Silliman University in its 60th Outstanding Sillimanian Awards made a recognition of its "Heritage Builders." Among the recipients is Dr. Pedro E. Y. Rio, a Centralian, who was the Dean of Education of Silliman University from 1941-1957. This posthumous award was received by CPU Vice President on Academic Affairs Dr. Irving Rio and Mrs. Gladys Rio-Malayang (wife of former President of Silliman University, Dr. Ben Malayang) on behalf of Engr. Walden Rio, the son of Dr. Rio.
According to the Programme, "Silliman University remembers men and women who have moved on to the next life and beyond, for serving the institution well and devotedly. Heroes in their respective workplaces, they left a legacy worth reminiscing. Today we honor their admirable commitment to Silliman University." The posthumous award was given in dedication to the iconic and pioneering spirit of Dr. David and Laura Hibbard.
It can be remembered that Dr. Pedro E. Y. Rio is the first Filipino to earn a Doctor of Education degree from Temple University, USA in 1935. He served as the Dean of the CPU College of Arts and Sciences from 1957-1966, Dean of the CPU College of Education from 1939 to 1941, and also the Chairman of the CPU Board of Trustees from 1961-1962.