By Cyrus A. Natividad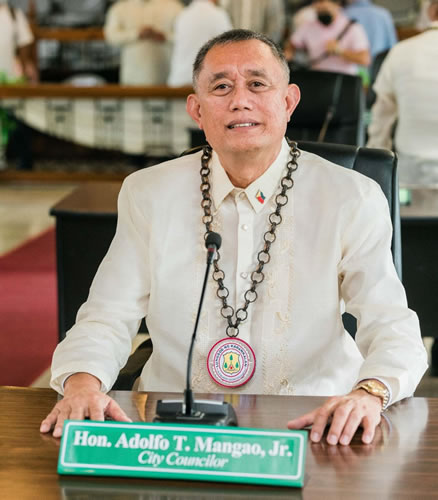 Mangao: God fearing and independent- minded Sangguniang Panglungsod Member of Kabankalan City.
Adolfo Tingson-Mangao, Jr. (CPU BSC 1985), well-known in Kabankalan as Toto Mangao is a pro-active, detailed oriented, efficient, and organized retired professional with extensive years of experience in the banking, lending, and cooperative sectors, community and child development engagement, among others. He is a multi-tasker who thrives in a challenging environment.
Toto envisioned himself long before – to be a God-fearing and independent-minded Sangunniang Panlungsod Member of Kabankalan City who owes his loyalty and gratitude primarily to the common tao, to speak freely without fear of reprisal, to propose measures deemed beneficial to the greater majority, and to make decisions guided by the dictates of his conscience and faith in the Lord.
The education he earned from Central Philippine University led him to a Master's degree in Public Administration at West Negros University in 2018. He was guided to a career journey in Public Service putting him in the City Council as Sangguniang Panglunsod Member (SP) –to serve his beloved Kabankalan City.
While studying at Central, he is remembered by his friends for his leadership; he trained in community engagements in particular. On top of his studies in finance and economics, Toto has driven himself well in public management. He recalls, "Our experiences in sorties and political campaigns around the campus – way back our CPUR days have contributed much to the efficiency of my campaign, here in Kabankalan."
Toto has treasured the values of CPU which is well-known for excellence, faith and generosity. "One day, I should come back to revisit our Alma Mater and see its development; I know it is going very well with its present administration, faculty and staff. I am grateful to CPU, especially that being a Centralian has a bearing in the mind of the electorate."
Mangao has a Career Executive Eligibility. He is a Retired Senior Manager of Overseas Filipino Bank (Formerly Philippine Postal Savings Bank, Inc.) in Bacolod and Himamaylan branches, and Retired Chief Accounts management Specialist of Land Bank of the Philippines from 1990 to 2005.
His church and civic engagements include being former President and currently Treasurer of the Gideons International, Kabankalan Chapter.
Toto is happily married to the former Jocelyn Pico. They are blessed with 3 children, Adcel Kyle, Adriel Dolf and Adrian Josh.