By Prof. Gerardo "Papang" G. Gepulango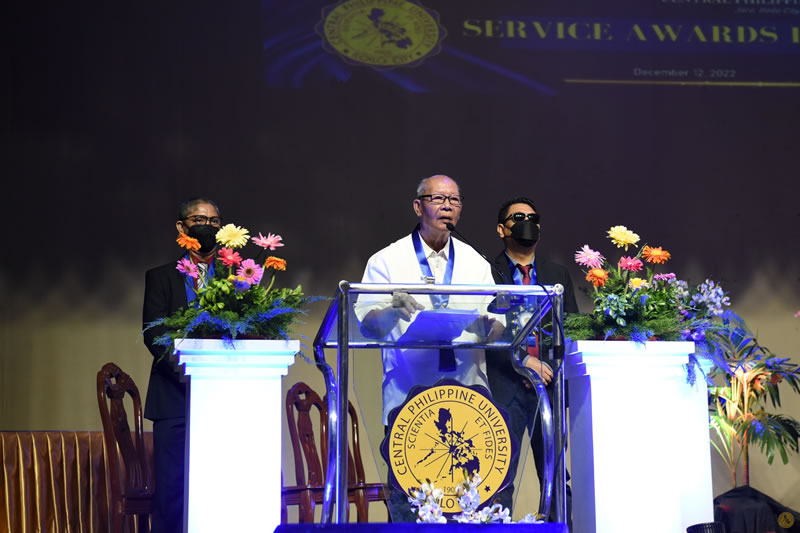 Prof. Gerardo G. Gepulango gave a response on behalf of the Faculty Long Service Awardees.
ANG 50- ANYOS KO SA CPU
Maayad-ayad gid nga aga sa tanan!/
Good morning everyone!
Sang ako ila ginhambalan/, nga ako ang mahambal para sa tanan/,
Ang hambal ko indi lang/, kay kon maghambal takon/ gina kulbaan,
Apang sang ila ako hambalan/, nga ini nga hambalanon/ last na gid lang/,
Kag ang 50 years in service bal-an/, talagsa lang/ nga kahigayunan/,
Teh hambal ko /sige na lang/, bisan tigulang/, bato lang/,
Total bisan mal-am/ may aslum pa man/ kag may kahang!/
Sa liwat gali ako/, si Gerardo/ Gepilano /Gepulango/
19- forgotten/, este, 1946 natawo/, didto sa Guimbal, Iloilo/
Tiyempo sadto/, Philippine Independencia sang mga Amerikano/
Sang ang presyo sang baboy sadto/, tag piso gid ang isa ka kilo!/
Gani kamo akon saysayan/, sang singkwenta ka tuig/ ko nga inagyan/
Halin sang nagsulod ako sa CPU/ nga eskwelahan/
Asta na subong/ nagahambal/ sa inyo atubangan/
Kabay may matun-an/, kabay may mapuslan/, kag kabay/ indi matulugan!/
Umpisahan ko sa Dekada Sisenta ….
1963/, sang makapasar ako/, entrance exam sang Normal School Iloilo/, nga subong /amo ang WVSU/, Pero kay indi ko gusto mag maestro/, Agriculture gid daad akon nga plano/,
Kay farmer man si Tatay ko/, ugaring may taga DPWH/ nga naghaylo/
Gani/ sa Jaro CPU takon nag derecho/, kag nagbuol Civil Engineering nga kurso/.
Sang naga eskwela ako, haay/, dira pirme nagatambay/, sa flagpole area/ watching girls go by/
CPUR Election that time/, grabe ang kampanyahanay/, Alfonso Uy vs Teddy Sumaray/, naga pamalaybalay!/
Diutayan lang man ako ma kick out/ kag goodbye/, kay damu ang lagbong/, waay gatuon kabay/
Tungod sa second chance/, na inspire para magtuon that is why/, naka graduate ako/, 1969!/
Dekada Sitenta…
Ang University Day/ ma sadya gid pirme/, kay ang mga supporters/ kon mag cheering/ grabe./
Nagkuha ko board exam/ – 1970/, dayon nakapasar/, nag tudlo na diri/
Sadto/ ang mga bus nga nagabyahe/, daw parehas subong/, sang modernized jeepney/, pero ang plete/, tag dies sentimos/ mag pa city!/
5 pesos per unit – tuition fee/, akon sweldo 8 – pesos per day/, kag piso/ 3 bottles na/ ang SMB!/
Ang mga estudyante,/ naga bell bottom pants ang mga lalake/ kag above the knee ang mga babaye,/
Kag kon mag tarithi/, naga baha pirme/, atubang CPU /nga kalye/
Nag declare Martial Law Septyembre/, nauso ang mga martsa/ sang mga estudyante/
Kaagi ako/ gintaayan 45 (kwarentay singko) kalibre/, para idismiss ang klase/, kay magwa para mag rally/
Apang/ focus lang ako gihapon, sa pag tudlo sa mga estudyante!/
Dekada Otsenta…
Nag abot ang tion/, nga dapat pilion/, sa US pakadtuon/ kon ang teaching sigehon/,
Ukon/, trabaho sa Saudi akon pilion/, para mag manggaranon/ pero teaching gihapon/, ginpili nakon/
Sang 1983/ nag department head ron takon/, sige sa pag tudlo sa gihapon/
Nag coach sa basketbol/ pero arabuton/, kon ma pierde/ ang referee/ dayon awayon kag baison!/
Nag EDSA /People Power revolution/, nagkambyo/ ang administrasyon
Sa CPU/ every MWF may convocation/, pero padayon EXCEL education!
Dekada Nobenta (90's)
Dekada nobenta/, masadya ang battle of the bands,/
Ang original nga Rose Memorial/, nasunog,/ napukan
Ang High School Building/ gin patindog/, gin umpisahan
Iban nga kaupdanan/, nagsaylo/, nagtaliwan!/
Circa 2000
Sang 2000 nga dekada/, si Typhoon Frank/ nag dala destruction/
Ang mga opisina sa idalum/, nalumos sa baha/ kag nag salum
Kag ako man/ na admit sa Mission/, kay leptospirosis/ nag atake sa akon
Abi ko anay/ katapusan na nakon/, indi pa gali/ kay may ara pa misyon!
Sang una ako gid istrikto/, ginatawag nga terror, sadista/, damu gina lagbong ko/
Pero sang ang mga hinablos ko / nga gina pa peskwela nakon/ ang nalagbong/
Didto ko na realize/ dapat ang background/ sang estudyante usisaon
Kag indi lang basta-basta/ i-judge/ kag lagbungon lang dayon!
Gani subong/ bisan pa sa gihapon/ sige akon akig kag sermon/
Sa mga estudyante nga mag tuon/ apang ang pag panglagbong nakon laka na lang karon!
Circa 2010
2011 ako nag retire na/, apang pagka sunod nga adlaw/ ako rehired pa/
Kulang maestro/ gani patigayunon ta lang dya/, total kasarang pa man kita/
Ang blackboard/, chalk kag eraser/, nabayluhan na/ white board kag marker/
Dayon acetate/ kag overhead projector/, tapos laptop na/ kag computer pa!
Circa 2020's
Sang nag Covid pandemic na/ kag ang klase full online na
Daw wala ako manamian sa sistema/ kay waay ko sarig/ sa exam nga resulta
Lain gid man/ kon face to face/ ang plastada/
Pero online classes/ may maayo man nga natuga/
Napiritan ako magtuon/ Canvas kag Facebook/ kulang na lang/ tiktok tun-an ko pa ra!
Sa lima ka dekada nga serbisyo/, lima man ka pangulo/ sang CPU,/
Halin kay Joseph Howard/, Rex Drilon/, kag Agustin Pulido,
Juanito Acanto/, kag Robles Teodoro/, tanan sila/ puro gid maayo!
Sa singkwenta ko ka tuig/ sa CPU/ nga pag serbisyo
Waay man ko nakapoy/, waay man ko natak-an mag maestro
Kag labi sa tanan/ waay pa man ko/ may nakita nga murto
Ang akon lang nadakpan/, mga misteryo/ sa madulom nga kwarto!
Sa fifty years nga naagyan,
Ang akon pamilya/, ang mga maestro/ nga kaupdanan
Ang akon kabataan/, ang mga estudyante/ nga gintudluan
Ako bala may ara/ gina hinulsulan?/ Daw sa wala man.
Importante gid lamang/, imo gid mabal-an/, ang imo purpose/ diri sa kalibutan!
Gani/, kon ikaw maestro kg maestra/, nga wala gana/, sa imo obra,
Imo estudyante/ indi pag paantusa/, abi paghalin na,
Apang kon desidido/ ikaw magtudlo/, abi palangga-a
Ang imo propesyon/, ang imo nga obra!
Gani ang ibilin/ ko liwat nga linya…
"Choose a job you love/, and you will never have to work/ a day in your life."
"Pilia ang trabaho/ nga imo ginahigugma,
Para kada adlaw/ sang imo kabuhi/ wala ka naga obra."
Amo lang na ah/, hasta la vista!