By Cyrus A. Natividad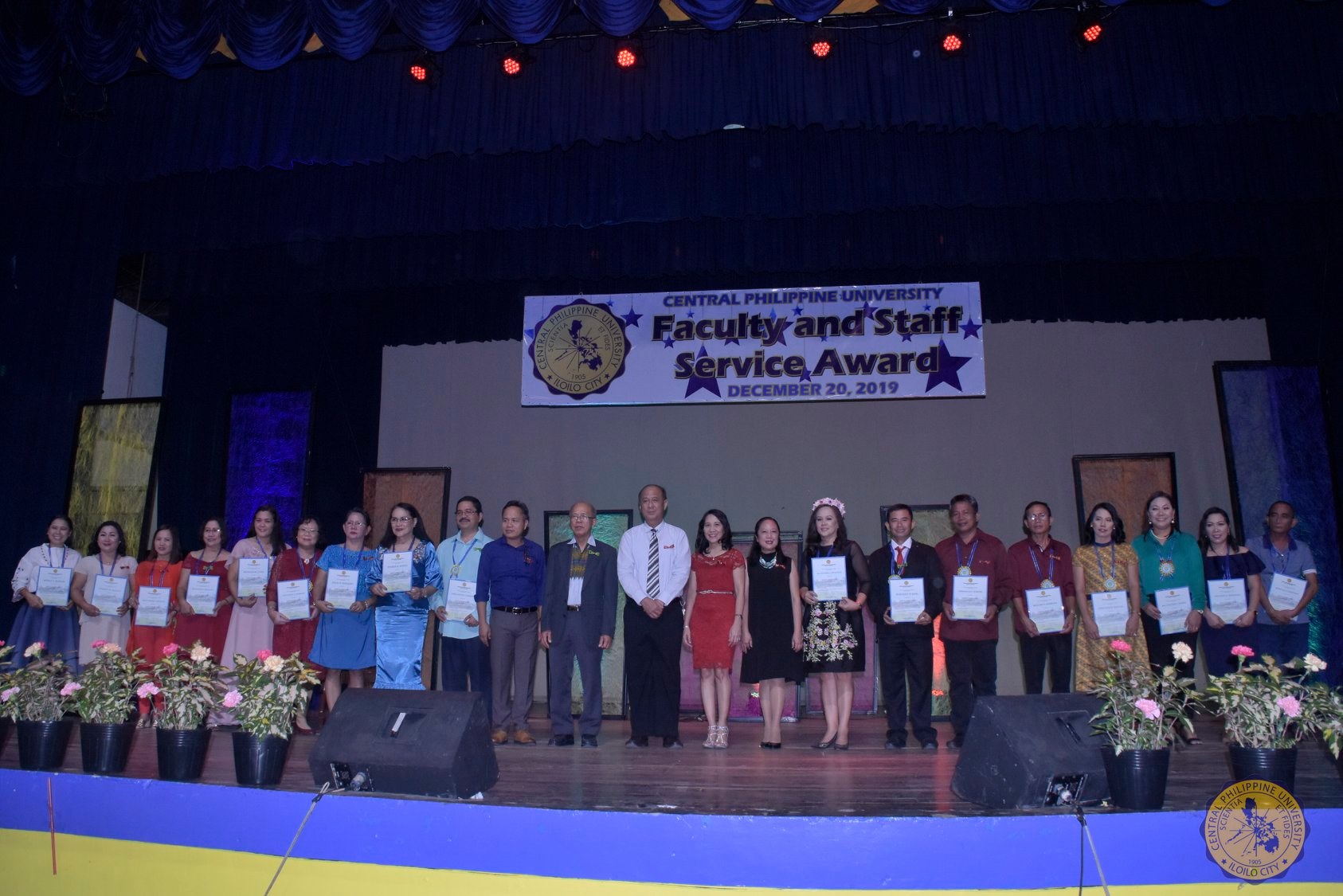 Faculty and Staff Service Awardees with (center, from left to right) HRD Director Prof. Rodel Palomar, CPU President Dr. Teodoro Robles, Vice President for Academic Affairs Dr. Irving Domingo Rio, Vice President for Finance and Administration Dr. Florence Bogacia, Vice-President for Student Affairs Prof. Esther Rose Romarate.
Faculty and Staff who had rendered long service to Central Philippine University were honored in the 2019 Service Awards Program on December 20 at the Rose Memorial Auditorium. The 78 awardees received incentives, plaques, and certificates.
The program started at 2:30 in the afternoon with a Community Singing led by University Church Associate Pastor Rev. Roger T. Quimpo. Senior Pastor Rev. Cris Amorsolo Sian led the devotional, which was followed by the Pambansang Awit led by Ms. Magdalena Cristi Lyni Huyong, Coordinator, Cultural Affairs Office.

Faculty and staff from different units, departments and colleges gathered for the annual University Christmas Party.
Dr. Teodoro C. Robles, University President greeted the faculty and staff and congratulated the 2019 Long Service Awardees. He thanked everyone for their dedication and cooperation in their work which contributed to the improvement of the University. Dr. Robles cited the challenges that his administration faced – including the free tuition fees of state schools, additional rooms for the students and other concerns that the University has overcome with the support of the faculty and staff.
Representing the staff, former Vice President for Student Affairs Rev. Joniel Howard H. Gico thanked CPU employees for the countless opportunities which he considers blessings for the faculty and staff of the University.
Dr. Humar Aberia, on behalf of the faculty, expressed his gratitude for Dr. Robles' endeavor on the improvement of the faculty and staff's benefits.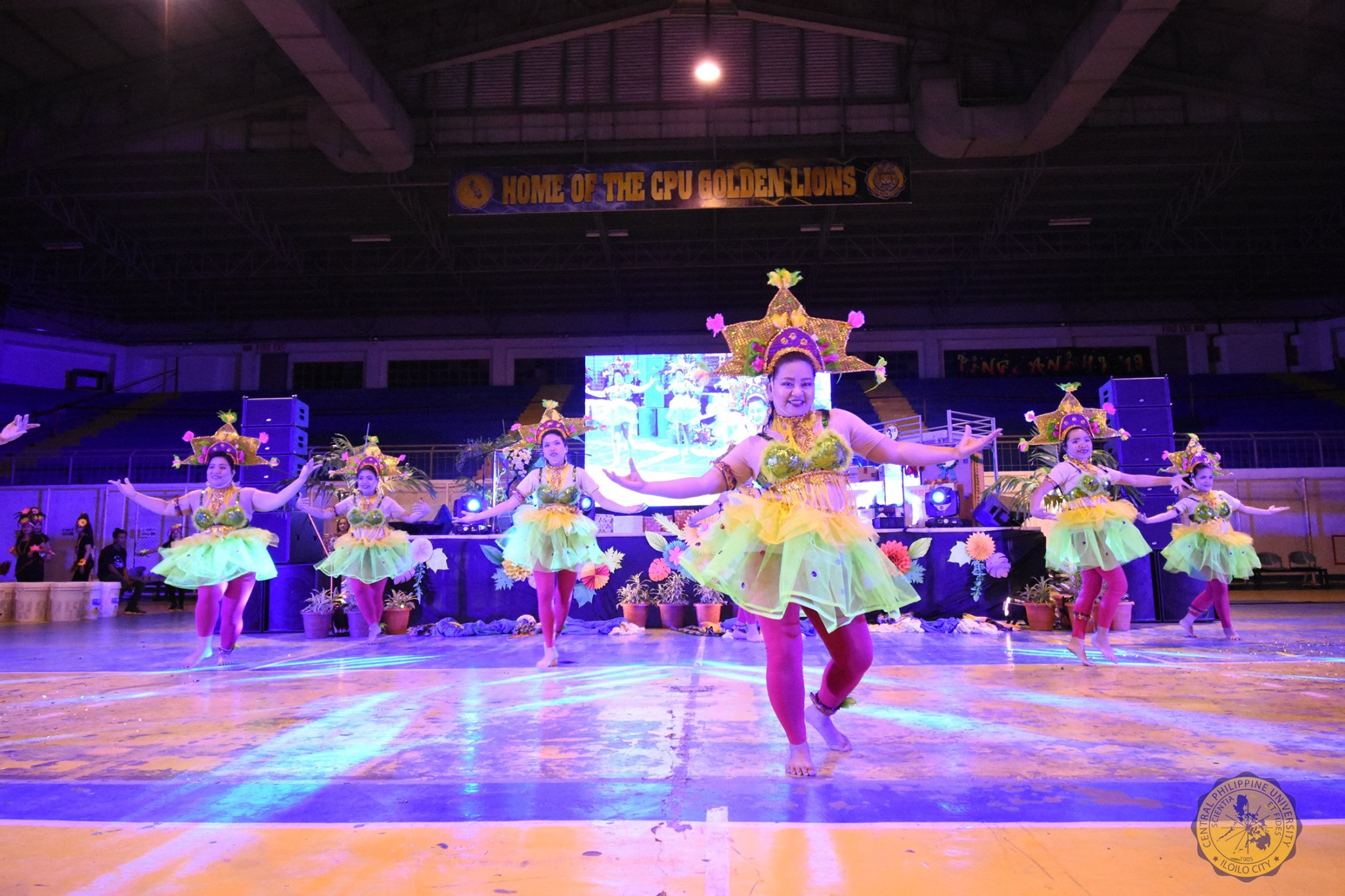 The Office of the Vice- President for Finance and Administration won as Champion during the Christmas Party Streetdance Competition.
The Long Service Awardees were faculty and staff belonging to the 10, 15, 20, 25, 30, 35, 40 and 45 – year category, as determined by the Human Resource Development Office. After the Service Award Ceremony, the faculty and staff proceeded to the University Gym for the annual Christmas Party.
LONG SERVICE AWARDEES
10-YEAR CATEGORY
STAFF
Arevalo, Christopher G.
Blones, Mary Jane Z.
Bolina, Ella Grace J.
Dejando, Ana Liza B.
Farillon, Mellissa C.
Franco, Mylen R.
Federez, Augusto E.
Lunasco, Ruth G.
Rafinian, Girlie M.
Villareal, Irene M.
FACULTY
Bretaña, Liezl V.
15-YEAR CATEGORY
STAFF
Alconada, Julie A.
Arañez, Bernadette R.
Babac, Ramy B.
Dario, Raphy Q.
De la Cruz, Steve Tomas Y.
Funtecha, Jocelyn L.
Gico, Joniel Howard H.
Golez, Nelson V.
Jarangan, Maricar C.
Lastrilla, Adolfo C.
Piolo, Joebert D.
FACULTY
Aberia, Rouella Cheyenne C.
Baldon, Charlie D.
Bautista, Gina B.
Borlongan, Ilda G.
Cocjin, Annalee L.
Colorge, Ma. Dona Luz C.
Cornel, Jayner F.
Dela Peña, Renia F.
Gico, Emma T.
Jardenil  Claire Anne D.
Jimenea, Daisy G.
Montaño, Antonio, Jr. M.
Narido, Virginia M.
Sian, Debbie Marsha G.
Yap, Janette E.
20-YEAR CATEGORY
STAFF
38        Andrada, Rizaldo V.
39        Bellosillo, Ma. Victoria G.
40        Cenal, Ronaliza M.
41        Labatorio, Moises, Jr. D.
42        Subiere, Veronico C.
FACULTY
43        Alicante, Jelvit Amor C.
44        Alog, Sunlight P.
45        Baliguat, Bernadine T.
46        Balofiños, Theresa T.
FACULTY
47        Dianala, Charlett B.
48        Enriquez, Sylvia D.
49        Fegarido, Adele Grace G.
50        Golilao, Christine B.
51        Hermano, Melanie G.
52        Junsay, Merle L.
53        Peleña, Ma. Cynthia T.
54        Ruegg, Evamer G.
55        Seresula, Mark Agustin J.
25-YEAR CATEGORY
STAFF
56        Janaysay, Reynaldo J.
57        Lara, Maria Paz Marigold L.
58        Madero, Victorio G.
FACULTY
59        Catalan, Daisy Joy C.
60        Castroverde, Leizl M.
61        Chin, Jesica B.
62        Saquibal, Ernesto, Jr. S.
63        Ygan, Imelda A.
30-YEAR CATEGORY
STAFF
64        Trasporto, James Peter T.
FACULTY
65        Abecendario, Mary Ann M.
66        Encajonado, Joel L.
67        Faraon, Orpha Vic S.
68        Fernandez, Stella G.
69        Seredrica, Ma. Victoria C.
35- YEAR CATEGORY
STAFF
Campos, Amalia F.
Samoro, Juliet G.
FACULTY
Militar, Jeriel G.
Acervo, Ophelia B.
40- YEAR CATEGORY
FACULTY
Dusaran, Reynaldo N.
Monserate, Fernita S.
45-YEAR CATEGORY
FACULTY
Aberia, Humar D.
Elevado,, Ramona D.
Patricio, Hope G.