By Keziah G. Huelar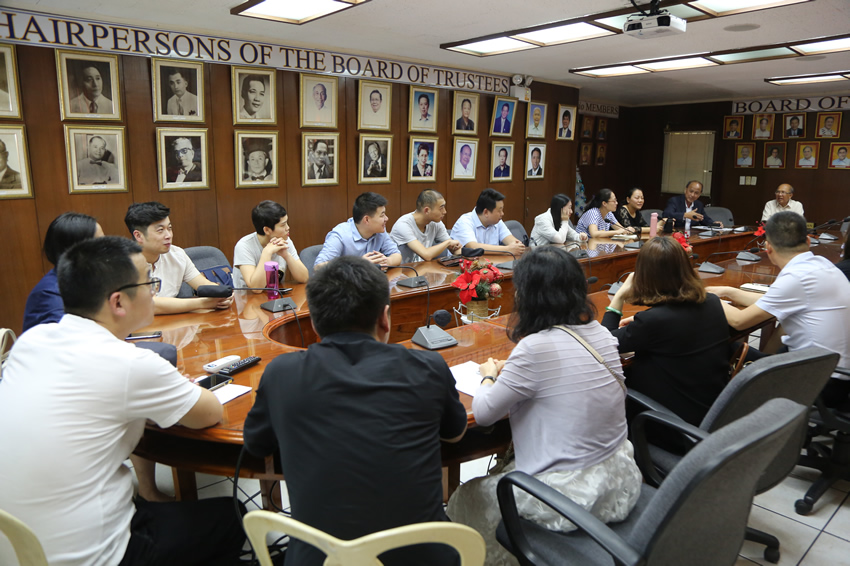 CPU Vice President for Academic Affairs, Dr. Irving Domingo L. Rio introduced the Chinese professors to CPU President, Dr. Teodoro C. Robles.
Fostering global academic ties—Central Philippine University welcomed 19 professors from ZhengZhou University of Industrial Technology and 1 professor from Henan University. They will be taking up a three-year Doctor of Education program in CPU.
On January 7, 2019, CPU President, Dr. Teodoro C. Robles; CPU Vice President for Academic Affairs, Dr. Irving Domingo L. Rio; and Acting Dean of the School of Graduate Studies, Dr. Rowena M. Libo-on, met with Prof. Min Zhu, Prof. Shaojie Zhang, Prof. Gouchang Zhang, Prof. Yang Yang, Prof. Suyi Xu, Prof. Bo Wei, Prof. TianTian Wang, Prof. HongHai Wang, Prof. Yuexing Peng, Prof. Nan Meng, Prof. JianJing Mao, Prof. SuLing Ma, Prof. Sheng Li, Prof. XueHui Jiang, Prof. LingChong Jia, Prof. Ci Fan, Prof. RuiRui Dong ang Prof. Ming Cong at the Administration Building Conference Hall.
Dr. Robles expressed the delight of the CPU Administration in accommodating and providing academic services to the Chinese professors for their doctorate degrees. On the other hand, Dr. Rio assured the visiting professors that the university will assist and support them in any way possible while Dr. Libo-on officially welcomed them to the CPU School of Graduate Studies, Doctor of Education Program.
As part of the requirements for the fulfilment of their doctorate program, they will be required to present their research in any reputable international conference and have it published before they can graduate.
During the three-year period, they will be staying in CPU for 90 days every school year in order to comply with the requirements of the Chinese government: for 1 month—January to February (summer vacation in China) and 2 months—from July to August (winter vacation in China).
This January, the group will be residing in CPU from January 10 to February 10, 2019.
From July to August 2019, CPU will also be expecting 20 additional faculty members of ZUIT to start their study of Doctor in Business Administration.
CPU and ZUIT, having been partners since 2017, have both promoted strong Filipino and Chinese cultural and academic exchanges. Recently, they pioneered the first Filipino-Chinese international research collaboration in Western Visayas. The said partnership has been made possible through the Filipino Chinese Youth Culture Promotion Inc. headed by its co-founder, Mr. Xu Bin.
As CPU strengthens its partnership with various universities in Asia, it is establishing its dominance in providing a venue for international research and academic discipline. With the many educational and cultural exchanges held in the university every school year, Dr. Rio is positive that CPU will be at the forefront of international research and academic collaboration in the region.