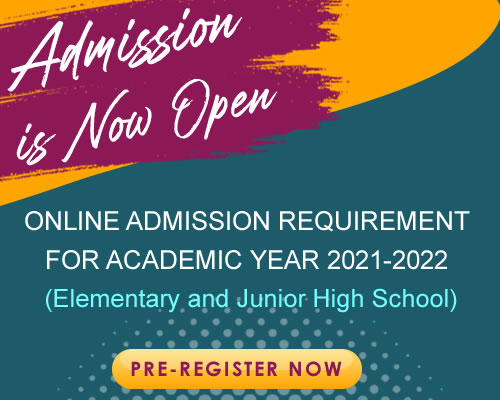 No Entrance Exam for all year levels.
Step 1. Pre-register through this http://registration.cpu.edu.ph/
Step 2. Send a photographed or scanned copy of your Report Card and Birth Certificate.
Step 3. Upon completion of the Pre-registration, you are required to pay P500 for Admission Fee (non-refundable). You may pay through https://cpu.edu.ph/payment-options/
Step 4. An email or text message will be sent to you as a confirmation of your Admission.
ADMISSION REQUIREMENTS:
For Incoming Grade 7
• F138 (Grade 6 Report Card) with LRN
• PSA Authenticated Birth Certificate
• Good Moral Certificate
• 2×2 picture with name tag
For Incoming Grade 1
• F138 (Kinder 2 Report Card) with LRN
• PSA Authenticated Birth Certificate
• 2 pcs 2×2 picture
Please submit all required documents on or before September 4, 2021. Students are advised to keep photocopies of all their submitted documents for file. Documents must be placed in a plastic envelope labeled with your name, course, contact number and submit the same through:
DROPBOX
Available at the CPU main gate
COURIER
The Principal
Junior High School Department
Central Philippine University
5000, Jaro, Iloilo City
The Principal
Elementary Department
Central Philippine University
5000, Jaro, Iloilo City