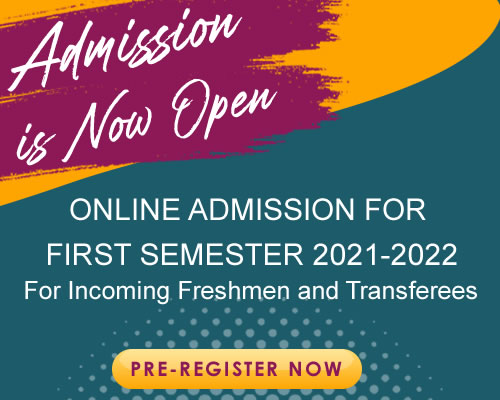 For Incoming Freshmen and Transferees
Step 1. Pre-registration. Go to http://registration.cpu.edu.ph/
(except for the College of Nursing and College of Engineering).
Step 2. Upon completion of the Pre-registration, you are required to pay P500 for Admission Fee. You may pay through https://cpu.edu.ph/payment-options/
Step 3. You will be notified through e-mail as soon as your payment has been verified. You will also be assigned your student ID Number for enrolment.
1. For Incoming First Year College
No Placement and Admission Tests for All Colleges.
Admission Requirements:
• Senior High School Report Card
• PSA Authenticated Birth Certificate
• Good Moral Certificate (optional)
• 2×2 picture
For those who have not yet secured their Senior High School Report Cards, a scanned or photographed copy of Authenticated PSA Birth Certificate and Grade 12 ID will be accepted.
2. For Transferees
Send a copy of your Transcript of Records or Copy of Grades to admission.registrar@cpu.edu.ph for evaluation.
Admission Requirements:
• Transcript of Records
• Honorable Dismissal/Transfer Credential
• PSA Authenticated Birth Certificate
• 2×2 picture
Please submit all required documents on or before October 1, 2021. Students are advised to keep photocopies of all their submitted documents for file. Documents must be placed in a plastic envelope labeled with your name, course, contact number and submit the same through:
REGISTRAR'S OFFICE DROPBOX
Available at the CPU main gate
COURIER
The Admission Officer
Central Philippine University
5000, Jaro, Iloilo City
For clarification, please contact Registrar's Office through:
Landline: 329-58-61, 329-1971 local 3271
Email address: admission.registrar@cpu.edu.ph