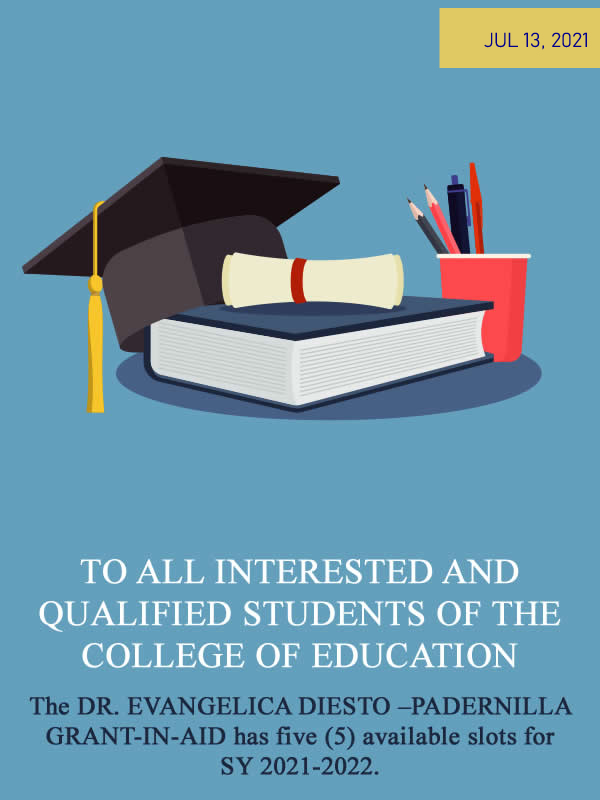 The DR. EVANGELICA DIESTO –PADERNILLA GRANT-IN-AID has five (5) available slots for SY 2021-2022.
Privilege:
 P 4,000.00 per Semester (P 2,000.00 to pay off miscellaneous fees and another P 2,000.00 for the load allowance per semester)
Criteria for Eligibility
This grant-in-aid is open to all incoming fourth year College of Education students who have academic promise and in financial need who are either work students or members of any Baptist church. Furthermore, the following criteria will be used for the selection of the recipient:
1. Scholarship 40%
2. Economic need 40%
3. Character 20%
TOTAL 100%
The application form may be downloaded from this link:
https://drive.google.com/file/d/1IQvqkIsxPCDXKA_sVMKW0fsZpOORKWy3/view?usp=sharing
Application period: July 15 -26, 2021
Interview via facebook messenger: July 29, 2021 (9am-11:30am)
Email to studentservices@cpu.edu.ph the duly accomplished form with all the requirements.
Note: Kindly specify in the email subject your complete name and the name of scholarship that you are applying for. (Example: Dela Cruz, Juan- Dr. Evangelica Diesto –Padernilla Grant-In-Aid)