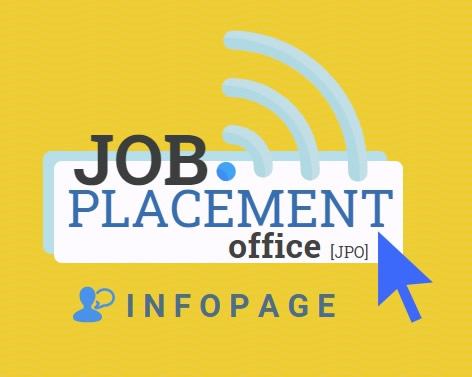 What is the Job Placement Office?
The Job Placement Office is the unit established by the University to assist YOU – our dear alumni –with your employability, whether it be helping you with your job hunting quests by giving you additional information on job vacancies or providing you career resources or materials and trainings for your career development.
What services can I avail from the JPO?
With this pandemic, we also have to adjust the services that we can offer for now, since we can no longer provide some of the usual programs we did before.
Still, you can get in touch with us for:
Job opportunities.  Job posting requests from partner companies will still be constantly updated and posted via our different channels and through our text info blasts.
Career resources.  Previous and new materials from seminars sponsored by the office, or provided by our company partners will be posted via our FB group.
Career counseling.  Finding it difficult to make work choices or having qualms about being a new entrant in the world of work? We are here if you need to talk.
 Application letter and resume editing. Need help with preparing these? You may email us your prepared documents if you want fresh eyes to check or go over these.
Presently, these are the ones we can provide online. Rest assured that we are still coming up with ways to assist you more.
How do I get in touch with the JPO?
You can reach us through the following:
Landline:         (033) 329-19-71 loc 2143
Mobile:            (Globe) 0966-346-8705 / (Smart) 0928-818-3420
Or you can join us through our FB Group: CPU Job Placement Office
How do I get timely updates on available jobs from, or activities provided by, the office?
You can get updates by signing up through the Job Placement Office group at the CPU Website (see Google form below), then ask "to join" to our FB Group (please take note to request to join to the GROUP, not to the FB account)
If you are already a registered member of our FB community, then activities and job postings are posted there, and you will also receive text alerts.
If you are no longer receiving the text info blast because you changed sim/s, then you may update your contact details with the office through the channels provided.
If I am not an alumnus/alumna, and I wish to apply to the vacancies posted, can I submit my application to your office?
If you are responding to a job vacancy posted by the CPU Human Resources Department, then you may submit application documents directly to the Office of the President.
If you wish to apply to vacancies posted by partner companies through the JPO, then you may submit directly to the companies, as JPO's referral services are exclusive only for the alumni.
Still have questions? Keep in touch! Give us a call or message us, we sure will be glad to hear from you!