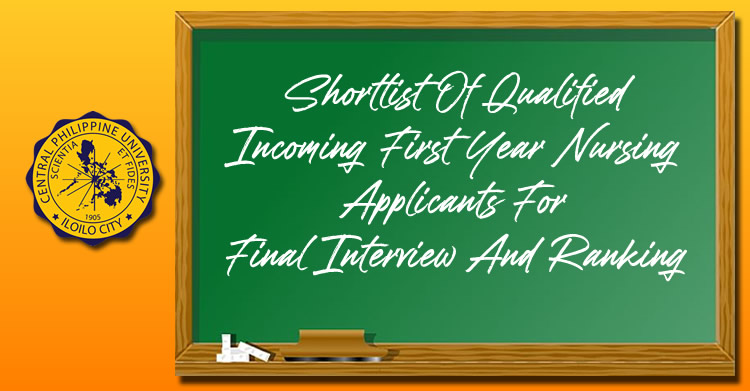 COLLEGE OF NURSING
(The First Nursing School in the Philippines, 1906)
SHORTLIST OF QUALIFIED INCOMING FIRST YEAR NURSING APPLICANTS for FINAL INTERVIEW and RANKING
Below is the shortlist of qualified incoming freshmen for final interview and ranking. Please take note of the following rules/guidelines for the interview process:
1. All applicants must create their Gmail account and consistently use this account to register or to join the Google Meets as a platform to be used for interview process.
2. The Gmail account must follow this format:
Applicant's firstnamesurname@gmail.com
(Example: juandelacruz@gmail.com)
3. The Gmail account will be used to log-in/ join the Google Meet during the designated date, time and group of interview.
4. To join, applicants must click the link provided on the group, date and time he/she is scheduled for interview.
5. Future nurses must practice punctuality. Thus, applicants must log-in/join the link at least 10 minutes prior to the designated time of interview on the day he/she is scheduled.
6. Applicants should wait for the host to admit him/her in the meeting room.
7. A panel of interviewers (composed of 3) will conduct the interview process which will take around 20-30 minutes.
8. Cameras/video and audio must be switched on. Virtual backgrounds are strictly prohibited during the entire interview process.
9. Applicants shall wear a decent attire (casual) during the interview and must avoid unnecessary noise, movements and distractions. Courtesy and proper decorum must be maintained at all times.
10. Questions during the interview process will center on the following but not limited to:
a. Personal qualities, interests and aptitude to take-up Nursing
b. Motivation/influence to take-up Nursing
c. Understanding of the Nursing profession
d. Ability to withstand stress and difficulties in life
e. Vision/aspiration in positioning himself/herself in the Nursing profession
11. The outcome/rating in the interview process is an important component in determining the top 240 students who will be qualified, in the BSN Program.
12. The top 240 applicants qualified to enter the First Year of the BSN Program will be posted at the CPU Website on or before August 1, 2020. Thereafter, the applicants (Top 240) will now be eligible for pre-registration and online enrolment following the enrolment process of the University.
13. In case of connectivity problem, we will give chance on a first come, first served basis on July 28, 29 and 30, 2020.
Please be guided accordingly.
Thank you.
The Admission and Retention Committee of CPU, College of Nursing
SHORTLIST OF INCOMING FIRST YEAR APPLICANTS QUALIFIED FOR INTERVIEW
AND FINAL RANKING FOR AY 2020-2021
| | |
| --- | --- |
|   |   |
| 1. | ABAJAR, Hannah Joy |
| 2. | ABANTO, Pauline Joy |
| 3. | ABISADO, Earlden Marie |
| 4. | ADRICULA, Aianna Jullene |
| 5. | AGABE, Erma Grace |
| 6. | AGUADO, Shara Mae |
| 7. | AGUARAS, Vince Rodolf |
| 8. | AGUILAR, Jhozelle |
| 9. | AGUILAR, Lea Lessey |
| 10. | AGUIRRE, Zachary |
| 11. | ALAGOS, JOE -OLD CUR |
| 12. | ALAVA, Ann Margaret |
| 13. | ALEJO, Ray Aldwin |
| 14. | ALLAPITAN, Shela Mae |
| 15. | ALMACEN, Dawn Darienne |
| 16. | AMARAH, Beatrice John |
| 17. | AMARO, Jeryll |
| 18. | AMENAMEN, M.I. Dia Izibille |
| 19. | AMOROSO, Mechelle Mae |
| 20. | AMUAN, Tristan |
| 21. | ANDRADA, Ysabelle |
| 22. | ANONAT, Nicalyn Clyte |
| 23. | APIL, Rosedel |
| 24. | APOSAGA, Ralph |
| 25. | ARABERAN, Ana Sophia |
| 26. | ARCIOSA, Zanajah |
| 27. | ARDENA, Kiezel |
| 28. | ARE, Rachel |
| 29. | ARGONIA, Jems Alfrie |
| 30. | ARMADA, Vena Marie |
| 31. | ARO, Curtny Love |
| 32. | AROSTIQUE, Kyara Theres |
| 33. | ASPERA, Kaye Kathleen |
| 34. | ASUNCION, Joanah Mae |
| 35. | AUREAL, Andrea |
| 36. | BACTING, Michelle |
| 37. | BACUGAN, Denise |
| 38. | BALADIANG, Aubrey Jannis |
| 39. | BALAD-ON, Radelle |
| 40. | BALAGOSA, Juana |
| 41. | BALARIDO, Trexie Doan |
| 42. | BALNIG, Yves Mc Louise |
| 43. | BALOGO, Aissey Joy |
| 44. | BANCE, Christine |
| 45. | BAÑES, Keith Dannielle |
| 46. | BANGLOS, Stephen |
| 47. | BARANA, Alma Katrina |
| 48. | BARBA, Amejr Tonette |
| 49. | BARRIOS, Aubrey Anne |
| 50. | BARRIOS, Cassandra |
| 51. | BARRIOS, Marjani Louise |
| 52. | BATHAN, Kiana Patricia |
| 53. | BAYLON, Tamara Casey |
| 54. | BAYONA, Queenie May |
| 55. | BELASOTO, Charise Ariane |
| 56. | BELASOTO, Maria Ellah |
| 57. | BELEN, Ivy Therese |
| 58. | BELTRAN, Mabel Anne |
| 59. | BERAYE, Neressa |
| 60. | BERCO, April Grace |
| 61. | BERMUDO, Charlotte |
| 62. | BIMBO, Allyssa May |
| 63. | BITON, Alana Yzabel |
| 64. | BITON, Michaela Jem Marie |
| 65. | BITO-ONON, Moses Oliver |
| 66. | BOLANTE, Karl |
| 67. | BONIFACIO, Camille Ann |
| 68. | BRAÑA, Bexve |
| 69. | BUENAFLOR, Thea Nicole |
| 70. | BUENVINEDA, Marcela Jane |
| 71. | BUGNA, Mariel Grace |
| 72. | BULNES, Alyssa |
| 73. |  BURGOS, Alecsandra |
| 74. | BURGOS, Pio Lawrence |
| 75. | BUYO, Rezza |
| 76. | CABRERA, May June |
| 77. | CAHUYA, Jereze Lyza |
| 78. | CALEBRIA, Vanessa |
| 79. | CALINAUAGAN, Nestle |
| 80. | CALIZO, Christal Lee |
| 81. | CAMANAY, Robelyn Joy |
| 82. | CAMARINAS, Winsel |
| 83. | CAÑONERO, Elian Rendell |
| 84. | CANTOMAYOR, Kervy B. |
| 85. | CAPILLO, Jobuen Mae |
| 86. | CARAS, Phoebe |
| 87. | CARPIO, Marie Joselle |
| 88. | CASAMORIN, Joan |
| 89. | CASCO, Nikka Emmanuel |
| 90. | CASELA, Elyn Alexa |
| 91. | CASERIA, Ma. Hannah |
| 92. | CASILAO, Lynnel Hope |
| 93. | CASTILLO, Audrey |
| 94. | CASTILLO, Shamea |
| 95. | CASTILLON, Maria Kristelle Y. |
| 96. | CASTROXAS, Aisne |
| 97. | CATALAN, Seth Nicole |
| 98. | CEJES, Paul Dominic |
| 99. | CELEBRIA, Vanessa |
| 100. | CELESTE, Keanyll Lueviah B. |
| 101. | CEPEDA, Floyd Ervin |
| 102. | CERVANTES, Janne Astar |
| 103. | CHAN, Jeiah Silenie |
| 104. | CHEE, Nicole Sherry |
| 105. | CIUBAL, Sassy Ann |
| 106. | CLAVEL, Vince Ben-Ammi M. |
| 107. | COCOY, Gia |
| 108. | COLOT, Nicole S. |
| 109. | CONEJAR, Catherine |
| 110. | CORDERO, Lyka Dayne |
| 111. | CORDOVA, Lianne |
| 112. | DABLE, Trisha |
| 113. | DAGANGAN, Geunielyn |
| 114. | DAGOHOY, Jacinta |
| 115. | DALEN, Marriane Marie |
| 116. | DAMONDAMON, Nicole |
| 117. | DARAUG, Augee Ney |
| 118. | DARAUG, Raisa |
| 119. | DE LA CRUZ, Eiren Mae |
| 120. | DE LA CRUZ, Kyna |
| 121. | DE LA GENTE, Dahnna Eunice D. |
| 122. | DE LOS SANTOS, Sweetty Ferl |
| 123. | DE PEDRO, Samantha |
| 124. | DEL NORTE, Gabrielle Kate |
| 125. | DELCANO, Lyzah Clarisse |
| 126. | DELGADO, FELICETIE |
| 127. | DELGADO, Jeeyan Grace |
| 128. | DEPASUPIL, Shalene Kaye |
| 129. | DEPRA, Liza |
| 130. | DEREQUITO, Maggie |
| 131. | DESALES, Remevilla |
| 132. | DIANE, RV Jerecho |
| 133. | DIEL, Waymel |
| 134. | DIOSABAN, Doane Maxwell B. |
| 135. | DIOSANTA, Nellicon Vale |
| 136. | DOHINOG, Noel Lorenz |
| 137. | DOLLETE, Rena Mariel |
| 138. | DOMINGO, Margarita |
| 139. | DUEÑAS, Krshna Mahakaola |
| 140. | DUMAPIT, Paula Jane |
| 141. | DY, Mary Dannielle |
| 142. | EBAY, Josh Aaron |
| 143. | EBLACAS, Mariella Angelica |
| 144. | ELVAS, Sofia Isabel |
| 145. | EMMANUEL, Ann Marielle |
| 146. | ENICOLA, Ezra Patrick |
| 147. | ESO, Mar |
| 148. | ESPANTO, Abigael |
| 149. | ESPANUEVA, Rose |
| 150. | ESTANOL, Jhanprezzel Kaye |
| 151. | ESTIQUITA, Ian Edgar |
| 152. | ESTOS, Rhea Lynn |
| 153. | EVANGELISTA, Di-anne-Mei |
| 154. | EVANGELISTA, Faye Khrys |
| 155. | FACULTAD, Jhandel |
| 156. | FAINAG, Khrysslyn Myrrh |
| 157. | FANO, Frhea Mae |
| 158. | FANTONALGO, Issa Ricci |
| 159. | FARAMIRAN, Mhaecy Grace |
| 160. | FELIPE, Klarisse |
| 161. | FELIPRADA, Nicole |
| 162. | FINLAC, Eiseen Joyce |
| 163. | FLORES, Marah Joy |
| 164. | FLORES, Santina Marie |
| 165. | FORMAREJO, Andrei |
| 166. | FRIAS, John Scott |
| 167. | FUENTES, Erica |
| 168. | FUENTES, Lila Mei |
| 169. | GABITANAN, Sarah Jul |
| 170. | GALERO, Cydee |
| 171. | GALINDO, Jomabel T. |
| 172. | GALLARDO, Christian |
| 173. | GALLARDO, Jose Carlos |
| 174. | GALLARDO, Rezza Gift |
| 175. | GALLEGO, Celestino |
| 176. | GALVE, Quennnie |
| 177. | GANUELAS, Christine Denise |
| 178. | GARBOSA, Reje Mae |
| 179. | GARZON, Aliyah Kris |
| 180. | GASCON, Alyssa Marie |
| 181. | GASCON, Benedicto JR. S. |
| 182. | GERALO, Ana Cristine |
| 183. | GIMENO, Ken Johann |
| 184. | GONZAGA, Caryl Faith |
| 185. | GREGORIO, Dana Marie D. |
| 186. | GUBATANGA, Alexa Ann |
| 187. | GUERRA, Jeson |
| 188. | GUILLERGAN, Elijah Dale |
| 189. | GUILLERMO, Janna Francine |
| 190. | GUINO-O, Sita Dawn |
| 191. | GULMATICO, Kathrina Mae |
| 192. | GUMBAN, Mystelle Eliza |
| 193. | GUZMAN, Jared |
| 194. | HAMPAC, Learnie |
| 195. | HECHANOVA, Philip Justin |
| 196. | HEREDIA, Marian Zoe |
| 197. | HERMOSA, Joan |
| 198. | HIPOLITO, Rachel |
| 199. | HISU-AN, Joanna Mica |
| 200. | HOJILLA, Germaine Gem |
| 201. | IBALE, Carrie Kirsten o. |
| 202. | IMPERIAL, Hannah |
| 203. | INFANTE, Vinnes Ann |
| 204. | INSULAR, Scion Ritz M. |
| 205. | INTOY, Patrecia Rose |
| 206. | JABATAN, Eleighda Marie |
| 207. | JAMELO, Krizanne |
| 208. | JASA, Mary Louise |
| 209. | JAVIER, Micah |
| 210. | JERMIA, Kiana |
| 211. | JIMENEZ, KRISTIN Rose |
| 212. | JIMENEZ, Princess Aliha |
| 213. | JINON, Jessa |
| 214. | JOLITO, Kirsten Joanne |
| 215. | JOLO, Alana Joy |
| 216. | JOVES, Hanna Alyssa |
| 217. | JUTARE, Mark |
| 218. | KEW, Adeline |
| 219. | LABATORIO, Bethany |
| 220. | LABIOS, Liza Joie |
| 221. | LACANARIA, MYKA Sydney |
| 222. | LAGALAGOT, Herfel Asteene |
| 223. | LAGRITO, Kyziah |
| 224. | LAGUNDAY,  Jame CI |
| 225. | LANARIO, Javen |
| 226. | LAPASTORA, Jodean Irvie |
| 227. | LASAFIN, Demi |
| 228. | LASIOS, Liza Joie |
| 229. | LAVIÑA, John Haley |
| 230. | LAZALETA, Louie Jay |
| 231. | LAZARO, Maica |
| 232. | LEDESMA, Marjorie |
| 233. | LEGADA, Loren Rose |
| 234. | LEGASPI, Ma. Lara |
| 235. | LEGISLADOR, Zeah Grace |
| 236. | LEMANA, Reuel John |
| 237. | LENTIJA, Glyzza |
| 238. | LIBUNA, Christine Anne Grace T. |
| 239. | LIM, Simon Ken |
| 240. | LLAUDERES, Angela Marie |
| 241. | LOPEZ, Mary Mae |
| 242. | LORCA, Anthony |
| 243. | LOREDO, Camille Joy |
| 244. | LOSAÑES, Trexie Anne |
| 245. | LOZADA, Angel Danica |
| 246. | MADAYAG, Leny Grace |
| 247. | MAGBANUA, Carl |
| 248. | MAGNO, Esther Sheila |
| 249. | MAGRO, Rosheil |
| 250. | MAGTOTO, Mary Rosebell |
| 251. | MAH, Charlyn |
| 252. | MALIK, Ayesha |
| 253. | MALLARI, Jessther |
| 254. | MALLORCA, Janamae |
| 255. | MALONES, Thea Chloie |
| 256. | MAMON, Shane Nicole |
| 257. | MANABAT, Edzhel Ann |
| 258. | MARASIGAN, Li |
| 259. | MARFIL, Maria Elijah |
| 260. | MARFIL, Nicole Sheena |
| 261. | MARTINEZ, Queenie Lou F. |
| 262. | MASCULINO, Michael Anthony |
| 263. | MATUTINO, Lee Allyah |
| 264. | MATUTO, Vanessa |
| 265. | MELCHOR, Eudelyn |
| 266. | MELGAR, Fe Mae |
| 267. | MESA, John Michael |
| 268. | MESA, Juliana Mikhaela |
| 269. | MIRAR, Erica Mae |
| 270. | MIRAR, Erika Mae R. |
| 271. | MOLETA, Gean louise |
| 272. | MONPONBANUA, Armaene |
| 273. | MONTINOLA, Mikhaela Theresa |
| 274. | MORENO, Shara Mae |
| 275. | MOSQUERA, Novie |
| 276. | NACIONGAYO, Jeremiah |
| 277. | NADUA, Emi Grace |
| 278. | NANDIN, Shan Matthew |
| 279. | NARANJA, Kate Liozel |
| 280. | NARIDO, Sophia Angel Grace |
| 281. | NEPOMUCINO, Myles |
| 282. | NIEVA, Trini Franz M. |
| 283. | NOCHE, Portia Krystelle |
| 284. | NOJAS, Frenchet Danel |
| 285. | OBENIETA, Kaizel |
| 286. | OBILLOS, Shiela Mae |
| 287. | OCATE, Charlize Isabelle |
| 288. | OLMOS, Althea |
| 289. | OLMOS, Atheena |
| 290. | OMAMBAC, Ana Margareth |
| 291. | OMBID, Christine Joy |
| 292. | ONG,Mary Joy |
| 293. | ORTEGA, Allysa Kim |
| 294. | ORTEGA, Thea Alessandra V. |
| 295. |  OSCARES, Karen Joy |
| 296. | PABIONA, Joane |
| 297. | PADERES, Dannah Allyza |
| 298. | PADERNAL, Regilen |
| 299. | PAGAYON, Julius Cezar D. |
| 300. | PAGMANOJA, Jessa Mae |
| 301. | PAGUNSAN, Kathleen |
| 302. | PAJONAR, Christian |
| 303. | PALACIOS, Lanz Fredrich |
| 304. | PALMARES, Kaye |
| 305. | PALMARES, Paula Bianca |
| 306. | PALOMO, Andrea B. |
| 307. | PAMA, Ma. Paoline Jestress |
| 308. | PANADERO, Mary Krisdel |
| 309. | PANAMBOLAN, Johaina |
| 310. | PANELO, Christine Jean |
| 311. | PANES, Bianca |
| 312. | PANES, Kyle Marie |
| 313. | PARCASIO, Earl John |
| 314. | PARCON, ELLA Beryl |
| 315. | PARCON, Jecerey |
| 316. | PARCON, Veatrize Marie |
| 317. | PAREDES, Angela |
| 318. | PARI-AN, Bryan |
| 319. | PARRENO, Denisse |
| 320. | PARTO, Fanny Jane |
| 321. | PASAQUIAN, Kimberly |
| 322. | PASCUAL, Neil Mark |
| 323. | PASOMANERO, Angela |
| 324. | PENDILLA, Dyza |
| 325. | PENDON, Lea |
| 326. | PENDON, Regine |
| 327. | PEREZ, Frances Joei |
| 328. | PICAÑA, Ledor |
| 329. | PIELAGO, Stephanie |
| 330. | PILARCO, Christian |
| 331. | PILLADO, Kriziah |
| 332. | PIOSCA, Quency D. |
| 333. | PLANCO, Shaira Dawn |
| 334. | POMADO, Jy Lyt A. |
| 335. | PORAL, Krizanne Joyce |
| 336. | PREVENDIDO, Jezelle Joy P. |
| 337. | PUERTO, Mary |
| 338. | QUERUBIN, Jason Angelo |
| 339. | QUERUBIN, Shekinah Juliene |
| 340. | QUITON, Mary Khrixel P. |
| 341. | QURESHI, Zahra |
| 342. | RAFOLS, Maydane Lyrah |
| 343. | RANARIO, Javen |
| 344. | RASCO, Dana Abigail |
| 345. | RAYMUNDO, Sean Andrey |
| 346. | RECAFORTE, Jenese Jea |
| 347. | RETIRADO, Jarence |
| 348. | REUMA, Keisha Diane |
| 349. | RICO, Erica |
| 350. | RIOS, Roodcooje D. |
| 351. | ROBERTO, Angel Jade |
| 352. | ROBLES, Gwyn Felipe |
| 353. | ROLDAN, Lance Joshua |
| 354. | ROXAS, Mikhael John |
| 355. | RUBINO, Dane Ashley |
| 356. | RUNTAL, Aeriell |
| 357. | SAGOLILI, Michael Dave |
| 358. | SALADAR, Lindsay Issa |
| 359. | SALAYA, Jessele |
| 360. | SALVILLA, Kathleen |
| 361. | SAMULDE III, Irwin Ross |
| 362. | SANCHEZ, Keith Kaira |
| 363. | SANTANDER, Kaye Khylle |
| 364. | SANTIAGO, Angela Gil |
| 365. | SAPLADA, Jhara Jhalil |
| 366. | SAQUIBAL, Margaret M. |
| 367. | SARTORIO, Ted Joseph |
| 368. | SATORE, Jovilyn |
| 369. | SEFULAN, Joyrelle P. |
| 370. | SEVIGAN, Patrick Shane F. |
| 371. | SIMORA, Katherine |
| 372. | SIMPAS, Nicole Yvonne |
| 373. | SINDINGAN, Paul Bryce |
| 374. | SOLDEVILLA, Hans Kristian |
| 375. | SONTILLANOSA, Godfery |
| 376. | SORIANO, Katherine |
| 377. | SORIANOSOS, Faith |
| 378. | SOSMEÑA, Stantele Mae |
| 379. | SUBALDO, Dexcy Ayessa |
| 380. | SUGIDE, Sue Valerie |
| 381. | SUGIMOTO, Ayako |
| 382. | TABITA, Joshua A. |
| 383. | TALAMOR, Darsea |
| 384. | TAMBALO, Ella Joy T. |
| 385. | TAN, Kaira Yrielle |
| 386. | TARRAZONA, Kayla |
| 387. | TARRAZONA, Lance |
| 388. | TE, Erika Denise |
| 389. | TEJADA, Arcelia Jerone |
| 390. | TEODOSIO, Veronique Francine |
| 391. | TILLAMAN, Maryl Chara |
| 392. | TINGA-TINGA, Elvie Marian |
| 393. | TINGZON, Francis Wayne |
| 394. | TOBONGBANUA, Geren |
| 395. | TOCONG, Alessandra |
| 396. | TORDESILLAS, Bianca Isaabel |
| 397. | TRASGA, Edson Erwin |
| 398. | TRESPECIOS, Kyla |
| 399. | TROJILLO, Reyssa Marie |
| 400. | TROMPETA, Ivy |
| 401. | TUMANGDAY, Princess |
| 402. | UMADHAY, Freya |
| 403. | VALERIO, Christine |
| 404. | VERSOZA, Andrei |
| 405. | VICTORIANO, Bea Francine B. |
| 406. | VILLANUEVA, Adrielle Louisse |
| 407. | VILLANUEVA, Bianca Angelie |
| 408. | VILLANUEVA, Frances Nicole |
| 409. | VILLANUEVA, Jieuo |
| 410. | VILLANUEVA, Kaye Aireine |
| 411. | VILLANUEVA, Loraine |
| 412. | VILLEGAS, Jennifer |
| 413. | VITO, Vance Matthew |
| 414. | ZAMORA, Esy Anne |
| 415. | ZERRUDO, Jhea |
| 416. | ZURBITO, Albie Jane |
Prepared by:
The Admission and Retention Committee
College of Nursing, Central Philippine University